4G LTE
Lightning fast speed
Get the real power of wireless technology with our 4G LTE network!
With 4G  LTE you'll get download speeds of up to 150 Mbps to watch HD movies, listen to  your favourite music, share your pictures and videos, play games, and download  applications, all at up to approximately 5 times the speed of 4G!
 
Put the power  of 4G LTE in your hands with cutting-edge phones and devices! You'll get the  best experience, even with your most demanding apps.
Coverage
With twice as many cell towers as any other network in Saskatchewan, we've  got you covered. Connect with the best network in and around Regina, Saskatoon,  Prince Albert, Moose Jaw, Weyburn, Estevan, North Battleford, and Yorkton, with  coverage expanding every day.
 
And when you're outside of 4G LTE coverage, you'll automatically  switch to our 4G wireless network, giving you the most seamless wireless  experience in the province. View the map to see where you're covered.
Compare 4G LTE with 4G speeds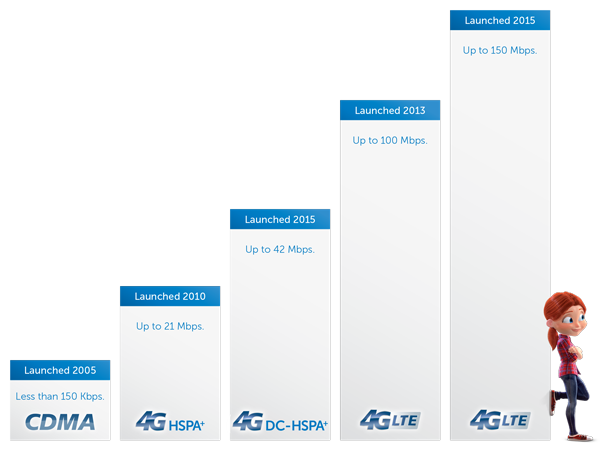 |   | 4G (1.5 - 7 Mbps*) | 4G LTE (7-15 Mbps*) |
| --- | --- | --- |
| Download an app (20 MB) | Under 3 minutes | Under 25 seconds |
| Stream music | Under 10 seconds to buffer. Occasional breaks in playback to buffer. | Under 1 second to buffer. No breaks in playback due to buffering. |
| Stream an HD video | 1-5 minutes to buffer. Breaks in playback and dropped frames due to buffering. | Under 30 seconds to buffer. No playback re-buffering or dropped frames. |
| Post a picture to Facebook | Under 25 seconds | Under 1 second |
| Watch a YouTube video | Under 20 seconds to buffer. Occasional re-buffering. | Under 1 second to buffer. No playback re-buffering or dropped frames. |
*Network performance depends on a variety of conditions, such as the number of users on the network, how close you are to a tower, if you are indoors or outdoors, as well as environmental and topographical conditions.
**Check your speed with the Ookla Speed Test app. See Using the Ookla Mobile Speed Test app for instructions on downloading and using the app. The data collected will help us better understand and continuously improve your 4G LTE speeds. 
Please note that completing a speed test will use data from your monthly data plan, so we only encourage customers with 10GB or more in their data plan to complete speed tests.
Specifications
You just need 3 simple things to connect to 4G LTE:
4G LTE SIM card
4G LTE-capable device
Any SaskTel data plan
Rate plans
You don't need a special rate plan to take advantage of 4G LTE. All our existing data rate plans and add-ons are ready to go! Start by choosing your wireless rate plan.
SIM cards
If you bought a 4G LTE-capable device before January 31, 2013, you may need to upgrade your SIM Card. It's easy—just head to your local SaskTel Store or Authorized Dealer and get your 4G LTE SIM Card. If you have an iPhone 5, iPad mini, or purchased your 4G LTE-capable device after January 31, then you should be ready to go!
4G LTE-capable devices
Don't have a 4G LTE-capable device yet? No problem! Visit your local Authorized Dealer or SaskTel Store and upgrade to a new 4G LTE device with Upgrade Your Way.