Solar Energy to Brighten Saskatchewan's Future
Solar Energy to Brighten Saskatchewan's Future
We all need to do our part for the environment, and that includes learning about innovative renewable energy solutions.
When you think of the sunniest places in Canada, Saskatchewan with its long cold winters probably doesn't top your list… but it should.
Saskatchewan boasts some of the sunniest places in all of Canada, with many communities receiving more than 2,300 hours of sunshine a year. We all know that sunshine is vital for growing huge bumper crops, but it's also great for powering your home, a fact that more and more Saskatchewan people are discovering.
One SaskTel employee and her family are among the growing trend of residents switching to solar energy to power their modern homes and lives.
Carmen Moore, a SaskTel Marketing Manager, and her family have recently made the switch to solar by retrofitting their Regina home with a new 4-kilowatt solar energy system. Now the Moores generate between 90 to 100 per cent of their power needs directly from sunshine, effectively eliminating their dependence on traditional coal generated electricity. Not only has this transition to solar power significantly reduced their overall impact on the environment but it's also saved them money by substantially reducing their monthly power bills.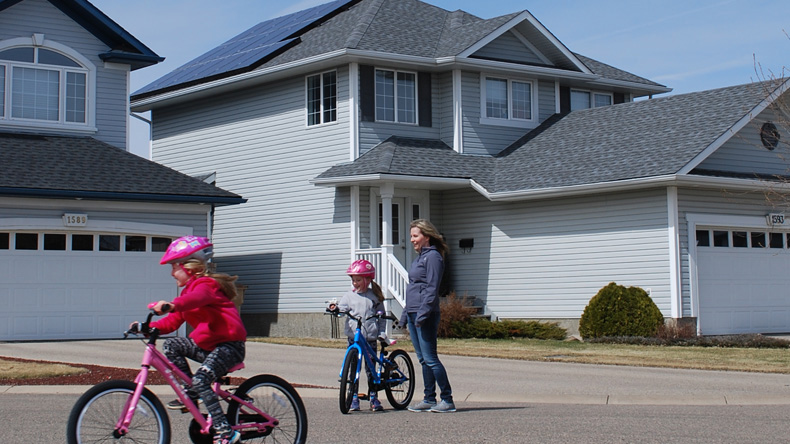 "Saskatchewan generates so much of its power using coal. So, environmentally, I thought that it would be a really, really good idea," said Carmen. "The other reason I guess is that I like saving money. The payback period on solar panels has come down so much in the past number of years that it just made good financial sense.
SaskTel is proud of Carmen and her family for taking the initiative to do what they can to reduce their impact and improve the environment for everyone in the province. It's people like her and her family that drive our passion for the environment. This passion is the reason that SaskTel has been named one of Canada's Greenest Employers for 9 years in a row and will continue to strive to reduce our impact and improve the environment in our province year after year.
To watch the CTV News story on the Moores, visit: regina.ctvnews.ca
For more information about Canada's Greenest Employers, please visit: www.canadastop100.com/environmental
About community stories

We volunteer, give time and money to great causes, and we partner with caring and visionary Saskatchewan organizations. Check out the latest news in our community stories.
Read more
Categories