2016 SaskTel scholarship recipients
2016 SaskTel scholarship recipients
Parkland College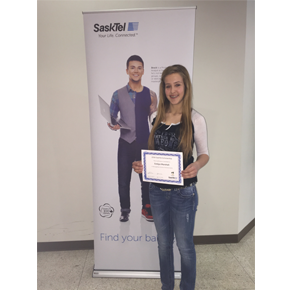 Emilyn Marshall
Area of study: Business Administration
Future aspirations: My future plans are to get my business administration diploma, and then eventually obtain a university degree in business. My areas of interest include human resources and marketing. I have always been drawn towards a career in business because I am a numbers person and love to work with people. My long term aspirations are to own my own business. I want to go to work every day knowing that I love what I'm doing!
Thoughts on being a recipient: I am very grateful for receiving this money as it will be a huge relief for me financially. I always work hard for everything I have, so a bonus like this was something I had never expected would come my way. I can't thank SaskTel enough for this much appreciated scholarship!.
---
University of Regina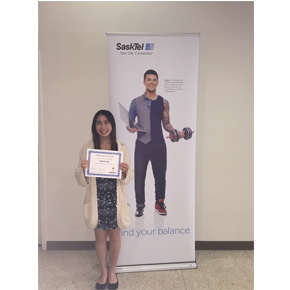 Andrea Mah
Area of study: Software Engineering
Future aspirations: I aspire to pursue a career in software engineering. To myself, the challenge of creating an intricate, applicable program through strategical manipulation of smaller components is enthralling. Not only does the field fascinate me, but it presents itself with a diverse array of application areas that entails vast opportunity. Hence, I have yet to decide what area in software that I would like to specialize in. Although I currently have some interest in cloud computing, the dynamic nature of software will inevitably shift my interests.
I would like to synthesize programs that will directly work to improve the ease and enjoyment of everyday life. Simultaneously, I am driven to generate products that I can be proud of— programs that transcend expectations of insight, efficiency, and function. I would thus like to strike a balance between serving notable contributions to society and self-fulfillment of my own standards. Within this, I strive to be a leader in the field who does not merely create, but revolutionizes.
Thoughts on being a recipient: I feel elated and very fortunate that I could be selected amongst a multitude of young, striving individuals. This scholarship allows me to pursue my studies with less financial stress and I am undoubtedly thankful towards SaskTel for offering me the opportunity to do so.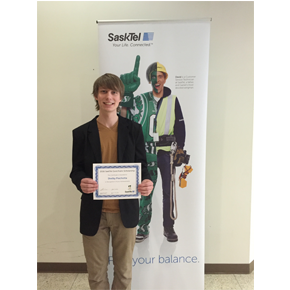 Shelby Piechotta
Gord Kuhn Recipient
Area of study: Computer Science
Future aspirations: I plan to continue pursuing my degree while volunteering on campus to follow the U of R's motto "As One Who Serves." These short-term goals extend into my long-term goals of obtaining a rewarding career and giving back to my community.
Thoughts on being a recipient: I am very honoured and grateful to be the recipient of the Gord Kuhn Scholarship. As I have learned from the stories I have been told about Gord, this opportunity is named after a passionate employee with an admirable work-ethic. I aspire to exhibit the same dedication in my own career. This scholarship is invaluable in helping me fulfill my dream of combining my love for technology with my passion to bring people together.
Savannah Serbu
Area of study: Business Administration
Future aspirations: My future aspirations are to earn my undergraduate degree in business at the Paul J Hill school of business. In addition, I'd like to go to law school for a graduate degree in law to become a lawyer, and even maybe a judge someday.
Thoughts on being a recipient: Words cannot describe the gratitude I feel being a recipient of SaskTel's scholarship of 2016. Thanks to SaskTel, my academic opportunities and financial support has expanded. I'm very thankful to receive this scholarship and the support from SaskTel.
---
University of Saskatchewan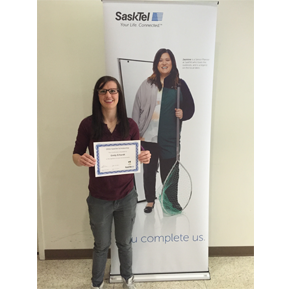 Emily Erhardt
Area of study: Business Administration
Future aspirations: In the near future, I intend to complete my post-secondary studies with a longer view to starting a career in business and law in Saskatchewan. I will remain involved in my co-operative community, and hope to inspire other young people to become involved as well.
Thoughts on being a recipient: I feel extremely honoured and privileged to have received this scholarship. I will continue to work hard in my studies and towards achieving my goals. I am incredibly grateful to SaskTel, as they have provided me with summer employment for the past three summers, and have now granted me this scholarship. SaskTel's ongoing community involvement and support for post-secondary students exemplifies why it continues to be regarded as one of Saskatchewan's best companies.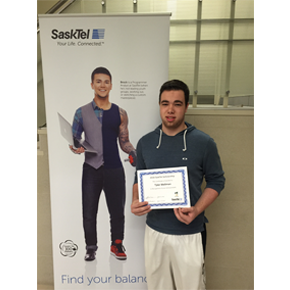 Tyler Wellman
Area of study: Business
Future aspirations: I plan on going through Edwards to achieve a degree in either Accounting or Finance and plan on seeking a career that follows in the path of one of these two fields.
Thoughts on being a recipient: I am very honoured and proud to be a recipient of this award and am fortunate to have this assist in paying for my education. I am extremely thankful for SaskTel's decision in picking me to be a recipient and would like to thank them at the highest level possible for their support.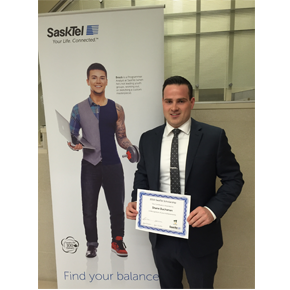 Shane Buchanan
Area of study: Law
Future aspirations: My future aspirations include securing employment with a Saskatchewan business that cares about our community, continuing with my volunteering commitments, and working towards making a positive impact on our province. I chose to study law because I want to help solve problems for the people of Saskatchewan. I am most interested in issues surrounding Aboriginal rights, human rights, and employment standards.
Thoughts on being a recipient: I truly feel honour and privileged to be a recipient of a SaskTel scholarship. This scholarship will be invaluable to me as I work towards my second degree. I am very thankful that SaskTel has recognized my hard work.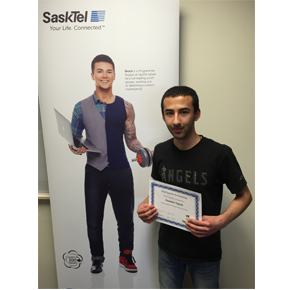 Hussein Yaqub
Area of study: Engineering
Future aspirations: I am hoping to finish my engineering degree and become a professional engineer in a job/field that I love.
Thoughts on being a recipient: I am thankful I was one of many applicants who received a scholarship these scholarships are very helpful for a student like me.