Customer success stories
Internet and Networks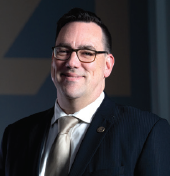 Kyle Folk is founder of IntraGrain Technologies Inc. and the manufacturer of Bin-Sense™, a wireless remote monitoring system for grain bins that uses SaskTel M2M technology. "I call my grain monitoring system an assurance for producers to know their grain is safe."
Kyle Folk, President and Owner
IntraGrain Technologies Inc.
Read more about IntraGrain Technologies Inc.
---

For over 60 years, the Saskatchewan Roughriders have been your community team. The Riders have won the Grey Cup four times (so far!) and the hearts of football fans all across Canada.
Here at SaskTel, we revel in our Rider Pride. We've even teamed up with the Riders to help with their communication strategy and IT support.
The Riders rely on our LANspan IP™ service, a secure and robust private network. Let's go Riders!
"SaskTel has been critical in meeting our needs and growing our business."
Jim Hopson, President & CEO
Saskatchewan Roughrider Football Club
Read more about the Rider Testimonial

Let's start a conversation
Call 1.844.SASKTEL