I chase SK thunderstorms for the rush

I chase SK thunderstorms for the rush
Actions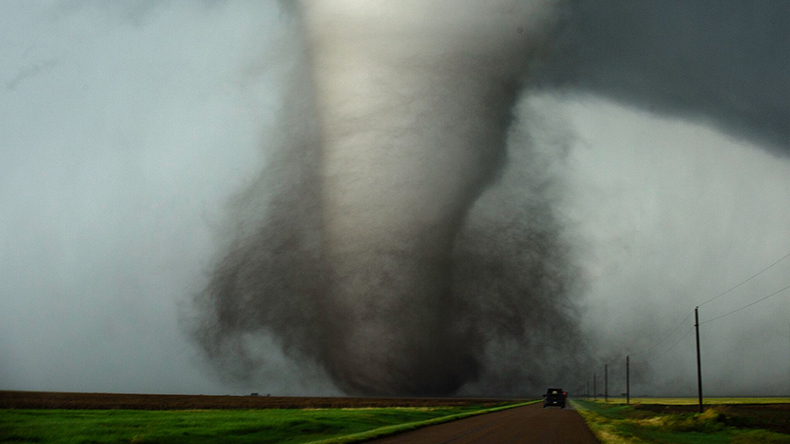 Huge EF3 tornado SW of Dodge City, Kansas on May 24, 2016.
Instead of running from tornadoes, Notanee Bourassa runs towards them. A passionate SK storm photographer, he's a volunteer storm spotter for Environment Canada. As our guest blogger, he shares the rush and risks of taking pictures of thunderstorms.
I love to photograph thunderstorms. It's a labour of love that's not for everyone. But to me a tornado represents a visual accumulation of things that are way bigger than me. It's a truly humbling, awestruck feeling to see something so dangerous that nature created. Here are how, when, and where to (safely) chase SK storms.
Summer's the best for SK storms
July is our peak month. Our crops are securely planted which boosts the evapotranspiration process (plant evaporation) and convective available potential energy (CAPE). Basically this means crops release rising moisture, which mixes with hot, humid air from the Gulf of Mexico and Pacific Ocean to create thunderstorms.

Tornado warned severe thunderstorm, seen east of Estevan, SK on July 13, 2013.
Cross-border invasion
Severe thunderstorms start in Alberta and Montana, then roar across our borders. If the winds are right, they'll plunge deep into southern SK. We also get hit by storms that sweep in from Alberta's northern mountains, to Edmonton, Kindersley, and along the Yellowhead Highway to Yorkton. They can veer north into our boreal forests and spark forest fires.
Southwestern SK is closer to the Pineapple Express, a jetstream that rapidly brings in humid Pacific air. Southeastern SK can get rich, moist air from the Gulf of Mexico, and low pressure systems from Colorado and other northern states aid with wind shear (a change in wind speed or direction with height in the atmosphere).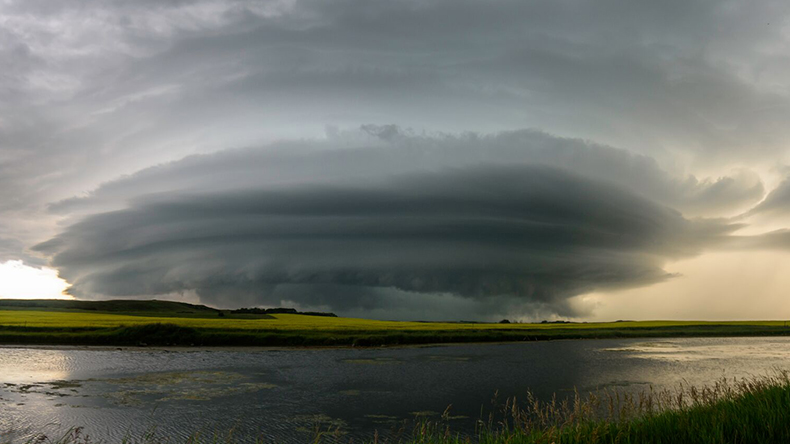 On July 1, 2016, Notanee chased this tornado warned thunderstorm from Craik to Aylesbury, SK, then 12 km west of Chamberlain, SK.

Best chase territory
Below the Trans-Canada Highway, southern SK has a good road network and great cellular coverage. So you can receive radar updates on a storm's speed and direction and even livestream the severe weather.
Storm hot spots in SK include:
1. Swift Current and points south and west
2. Moose Jaw and points south
3. Weyburn-Carlyle-Carnduff-Estevan
4. Yorkton parkland area
5. Leader-Kindersley-Saskatoon-Davidson
Best places to photograph storms
Want epic photos? Go to the Avonlea Badlands, Grasslands National Park, and Yorkton parkland. Also excellent: find a large, flat lake to reflect the storm.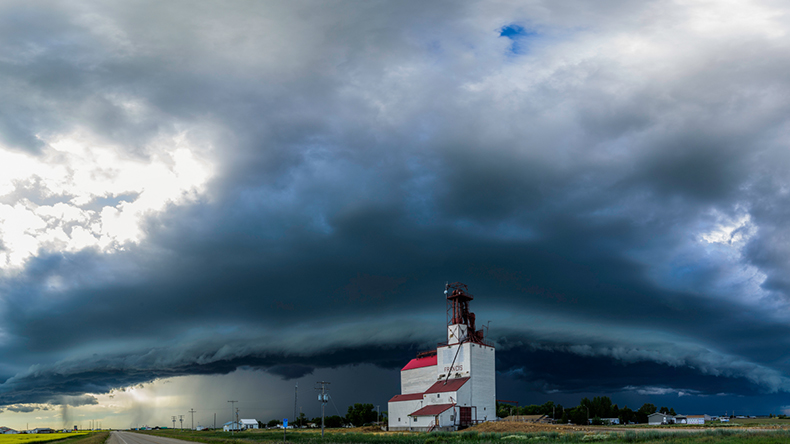 On July 3, 2016, a severe thunderstorm with a shelf cloud formation threatened Francis, SK.
Best time of day
Summer storms are stronger in the late afternoon after daytime heating, surface moisture, and winds combine to spark storms. They can form quickly with little warning. They usually start mid afternoon and reach maturity in late afternoon to early evening when the sun is near zenith. They wane in power as the sun weakens in the evening.
Watch for the tilt
Look for diagonally tilted thunderstorms. The tilt helps the storm thrive. Otherwise, a thunderstorm will just grow straight up and extinguish itself. But a tilted storm grows upwards and the upper level winds cause a persistent updraft which makes the storm stronger.
Watch for mushrooms
A great indication of turbulent weather is a storm cloud that looks like a mushroom. This means the storm's punched through the cap in the atmosphere with an updraft strong enough to form an anvil. Underneath it, you may see a mammatus cloud texture that, under the right lighting conditions, is spectacularly beautiful.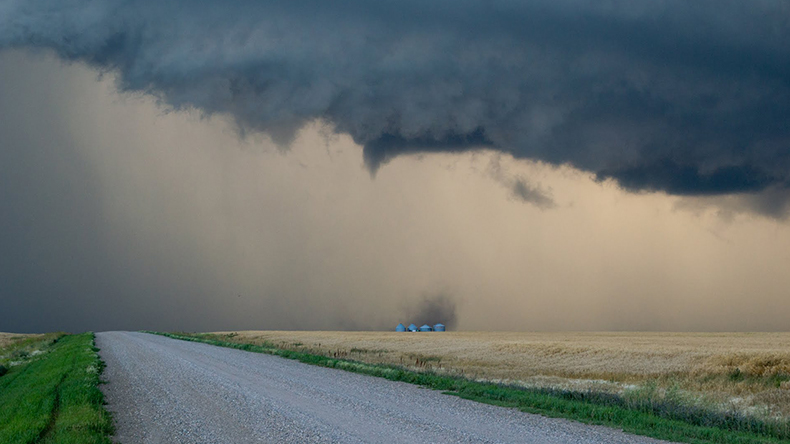 Tornado 2 km west of Fillmore, SK.
Staying safe is paramount
Remember: you don't have to do this. You'll be safer at home, where you can avoid spinning cows and follow Environment Canada's advice on tornadoes.
If you do venture out, be sure to do your homework:
1. Take a CANWARN class from Environment Canada (watch for dates & times on the #skstorm Facebook page). They'll show you pictures of storm clouds, what to look for, and what to avoid.
2. Read books and study previous weather events. Watch YouTube videos of other chasers, learn from their mistakes and successes.
3. Lightning is a big threat to severe weather photographers. Lightning bolts have up to 100 million volts of electricity. So set up your camera on a tripod and retreat to the relative safety of your vehicle.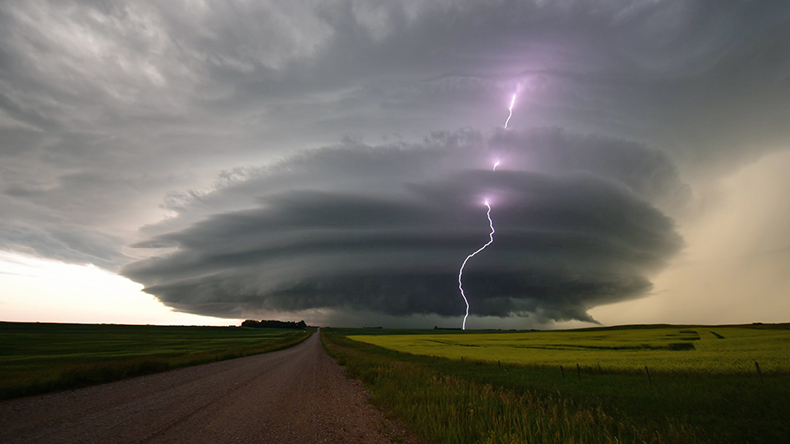 On July 1, 2016, Notanee chased a tornado warned severe thunderstorm from Craik to Aylesbury, SK. The storm split in two and he chased it to 12 km west of Chamberlain, SK.
4. Keep an eye on the storm's track at all times
5. If a thunderstorm moves northeast, stay south of it and parallel its movements. This should keep you out of the dangerous rain and let you photograph the storm's structure.
6. Exit strategy! Always find a safe road in and out. Avoid low lying entry roads. Your retreat will get hairy if your road is impassible from flash flooding or a sinking mud pit.
7. Never forget your place in nature and approach each storm with extreme respect and caution
8. Bring a bike helmet—hail can hit you at 110 kilometres an hour!

Lightning storm in Hoxie, Kansas.
So why do I chase storms?
If I can make that phone call to Environment Canada to assist in the warning process to perhaps save a life or property, then I've fulfilled my purpose. The photos are secondary—but definitely a thrill. One of my great joys is when all the planning, driving, gas & camera expenses pay off with a stunning photo of a supercell thunderstorm, with or without a tornado.

Notanee and his Nikon D810 camera near a severe storm in Garden City, Texas.
I crave the rush
When you see photos from other chasers, you'll want to take some, too. It's a bucket list thing—great compositions are really rewarding. Especially when so many things have to go right. You need the right place, time, and camera settings. But when you look in your camera viewfinder to see the photo of your dreams, it's like winning the Grey Cup!
All photos courtesy Notanee Bourassa. Contact him at hardwiredradio.ca/raiden
---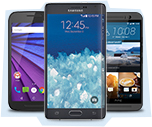 Chasing great storm photos? Bring a smartphone with a great camera and use our powerful 4G network coverage.
0 Comments