The 6 secrets to fishing in Saskatchewan
The 6 secrets to fishing in Saskatchewan
Photo by Andy Goodson
Andy Goodson is the man behind SaskBorder, an outdoor adventure and photography blog. Passionate about his province and its secret outdoor gems, Andy is our guest blogger and expert on fishing in SK.
I've been fishing in this province since before I could tie my own shoes, but I wasn't hooked until much later in life.
From a young age, my dad tried his hardest to introduce me to fishing, not realizing that my interests consisted of dressing up like Batman and screaming up and down the street. Passing time, swatting flies, tangling lines...these were actions unfit for a superhero.
Today, my shoe tying skills are still questionable, but I've dropped the cape and picked up a rod. Fishing is my obsession—one I explored in-depth while building the Angler's Map of Saskatchewan and locating nearly 700 angling waters across the province.
And although SK is definitely the best place to fish in Canada (in my opinion), there's more to it than simply knowing where to fish. One lesson my dad taught me which took years to set in:
"Every angler must learn to love the cast, before they can truly appreciate the catch."
Thankfully, SK has plenty of reasons to enjoy the cast. Here are my personal secrets on what makes Saskatchewan the best place to fish:
You can fish a different lake, river, or stream every week for a lifetime
If you've ever looked at a satellite map of Western Canada, you can imagine why our neighbours in Alberta might want to hop the border and come fish here. The amount of angling waters we have is staggering. The Cub Hills area, the centre of which is Narrow Hills Provincial Park, contains over 60 different lakes and streams within a 100 km radius. Up to 200 bodies of water are managed by fish stocking across the province, enhancing the current fisheries, and creating new angling opportunities.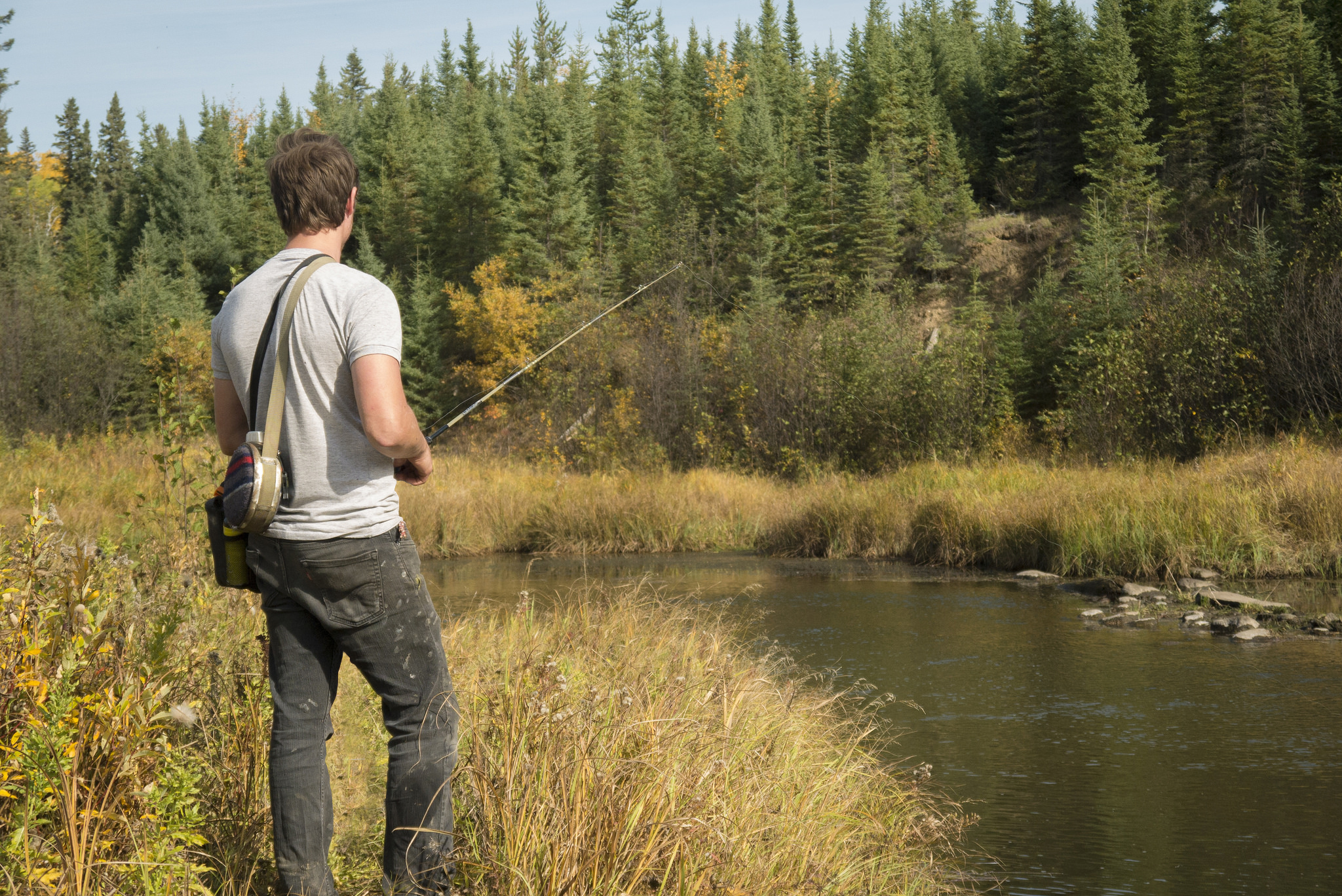 Stream fishing in SK - Photo by Andy Goodson
One-of-a-kind scenery
Saskatchewan's landscape is remarkably diverse. You can fly fish in the rolling grasslands of Cypress Hills, cast a line inside a river canyon locked in the boreal forest, or drop a lure into the icy depths of a 99-million-year-old impact crater known as 'Deep Bay' on Reindeer Lake. We're also called the 'Land of the Living Skies' for a reason and anglers score front row seats to the show. There's nothing like watching your lure shatter the sunset into ripples of pink and blue…until a lightning storm sends you paddling for the shores.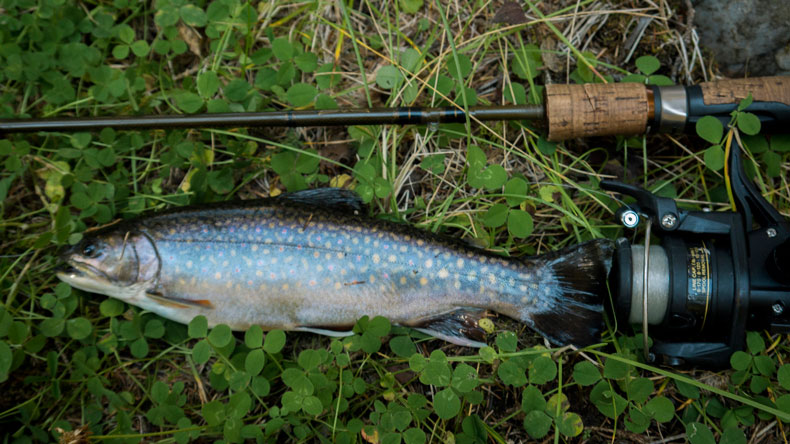 A brook trout - Photo by Andy Goodson
Trophy catches are par for the course
Most of us might already know that northern Saskatchewan is the go-to destination for a weekend binge of big fish. But the southern part of our province also has its share of monsters. Lake Diefenbaker has produced world records for two species: rainbow trout (48 lbs) and burbot (25.2 lbs). Tobin Lake is arguably one of the best walleye fisheries, regularly producing fish of over 10 pounds, and Last Mountain Lake has become known for a healthy population of trophy pike and walleye.
Monsters and mysteries live here
Sure, there's your usual goons—pike and walleye—but, there's actually some weird species you might have on the end of your line if you get lucky and know where to look. Such as:
Fishing in Saskatchewan is an adventure on its own
While fishing in SK, there's real chance for adventure: exploring streams, finding lakes, and meeting new people. But heading into the bush can also be an intensely demanding experience, sleeping in the remote backcountry, and, sometimes, thanking the stars for letting you out alive. But no matter what type of adventurer you are, it's hard to beat the feeling of a bending rod as your line flies off the reel.
Silence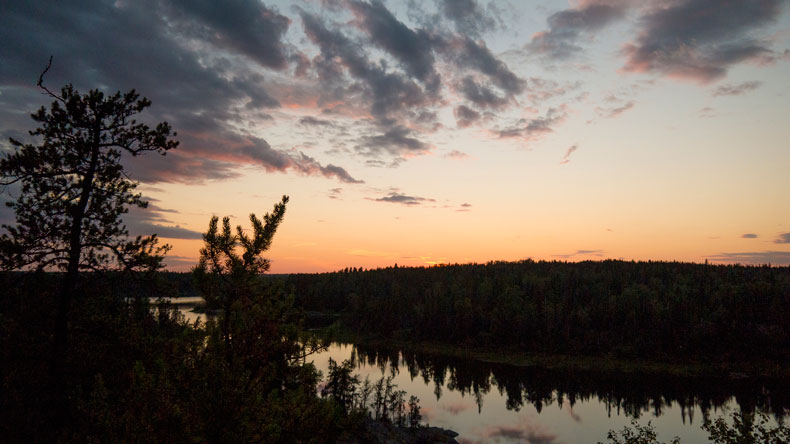 Sunset on Amisk Lake - Photo by Andy Goodson
So there you have it. I'd give anything to fish all day, every day, and I hope you get out there this summer and give it a shot.
---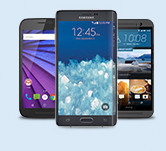 Track your catch, find the best time to fish, and check nautical charts with the latest smartphones!
About the Blog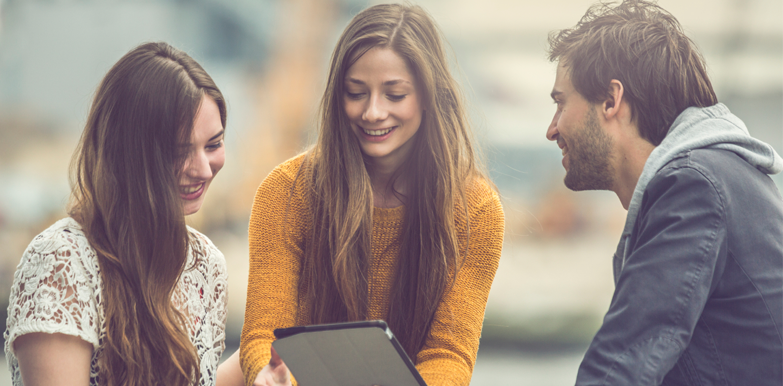 We'll share the latest stories about the quirks, culture, people and places across Saskatchewan. But more importantly, we're excited to get your point of view on what makes us all proud to be Saskatchewanians.
Categories