Healing Canada's Warriors
Healing Canada's Warriors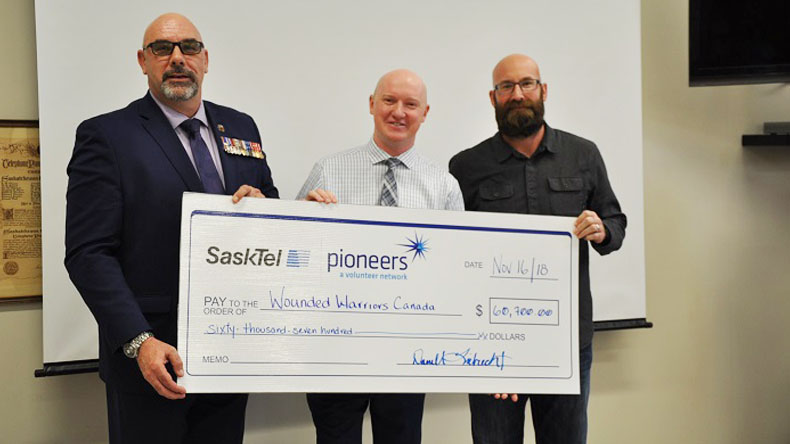 SaskTel Pioneers' salute Wounded Warriors Canada with generous donation
Wounded Warriors Canada (WWC) stands as a leader in mental health and post-traumatic stress disorder (PTSD) programming for Canada's retired and active service members.
On November 16, SaskTel Pioneers donated over $60,000 to WWC which will help the organization continue its outstanding and impactful programming.
"From a Pioneers perspective, this donation fits perfectly with our support for the military community," said Mark Grambo, President of the Bridge City Pioneers and Manager of SaskTel's Bid Management Office. "Part of our mission as Pioneers is to make meaningful contributions to our community, and this year we set out to make a difference for those who serve and have served our country."
Most Canadian Veterans and First Responders experience a full career and make successful transitions to retirement; however, this is not the case for everyone.
"When injuries are sustained, it doesn't matter where, when or how they occurred. What matters is that the individuals and their family members know that we, as a country and community, are in this together – working to ensure they receive the help they so rightly deserve," Scott Maxwell, Executive Director of Wounded Warriors Canada. "Wounded Warriors Canada is not just enriching the lives of those in need – they are changing and saving lives and families."
WWC is a national mental health charity whose mission is to honour and support ill and injured Canadian Armed Forces members, Veterans, First Responders and their families. The organization provides a wide range of programs and services for individual members and families affected by Operational Stress Injuries.
"For Wounded Warriors Canada, partnerships make our mental health programs possible," Scott said. "This significant contribution to those who serve our country at home and abroad is a testament to the Pioneers' principled commitment to service, community and our Canadian Armed Forces members - past, present and future - and their families."
The organization's programming includes couple's therapy, animal assisted therapy for PTSD, skills transition and respite care offered through group retreats. Such retreats encourage wounded warriors to connect with nature and each other in a supportive setting.
"Wounded Warriors does really amazing work in our country and province to help our Veterans and first responders in need," said Darrell Liebrecht, SaskTel Pioneer Manager. "Although the Pioneers provide funds to a number of different charities year-round, it's a special privilege to be able to work with Wounded Warriors Canada. We are proud to support, in any way, their ability to deliver their life-changing programs."
To learn more about Wounded Warriors Canada and their programming visit woundedwarriors.ca.
SaskTel Pioneers consist of over 4,000 current and former SaskTel employees who offer their time and skills to community causes. Visit sasktelpioneers.com to learn more about what members are doing to help communities across Saskatchewan.
About community stories

We volunteer, give time and money to great causes, and we partner with caring and visionary Saskatchewan organizations. Check out the latest news in our community stories.
Read more
Categories