Spreading Kindness: Saskatoon RAK Day 2018
Spreading Kindness: Saskatoon RAK Day 2018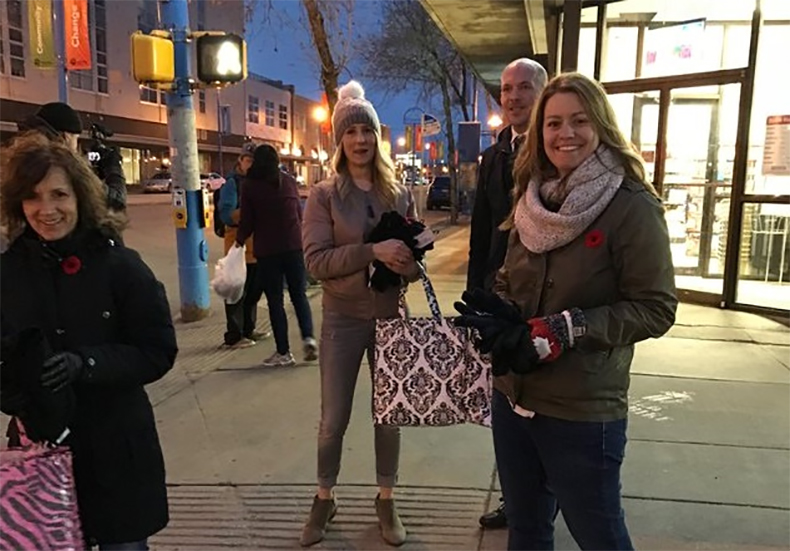 The wet and cold weather couldn't keep a group of 16 kind-hearted SaskTel volunteers from spreading warmth through the streets of downtown Saskatoon.
On Friday, November 2, members of the SaskTel Pioneers joined in the city-wide Random Act of Kindness Day (RAK Day) to encourage some unexpected moments of connection and compassion.
That evening, volunteers shared SaskTel's community spirit by giving away Tim Horton's gift cards paired with scarves or mitts to help brighten someone else's day. All items were purchased with funds raised by the Bridge City Pioneers.
The Pioneers, SaskTel's employee-based volunteer group, provides hands-on assistance to a number of community initiatives each year. This was the fifth straight year the Pioneers have participated in Saskatoon RAK Day which is a major initiative of the Saskatoon Community Foundation.
It's a straightforward and practical way that SaskTel employees are making a difference. Giselle Howard, a SaskTel Quality Assurance Manager and Pioneers member, explained that RAK Day is not just about uplifting others, it's also about getting to know your neighbours and increasing a sense of community.
"We are so pleased that we had this opportunity to get out in the community," she said. "I keep coming back to help out with this event because of the satisfaction it brings to make someone's day better."
For Chelsea Cannam, a Business Sales Manager with SaskTel, this was her first time taking part in RAK Day. She said she appreciates how the day encourages people to take the focus off themselves and give back.
"It was heartwarming to see the positive impact that a pair of mittens and a hot cup of coffee can have on someone! It truly was a gift to me, to be able to be a part of spreading kindness and positive energy throughout Saskatoon!"
One of the great things about spreading kindness is that it very much can create a ripple effect. The person on the receiving end of an act may carry that goodness with them and pay it forward when they're in the position to do so. As part of RAK Day activities, the Saskatoon Community Foundation suggested 101 Acts of Kindness to help interested volunteers get started.
"Our message to those we approached was to keep the item or pay it forward to someone else they believed needs some kindness," added Giselle.
The idea of paying forward kindness is also an important aspect of SaskTel's I Am Stronger program. Since its inception in 2013, the program has encouraged students to model kindness towards others in their schools and community.
Offered in partnership with the Ministry of Education, I Am Strongerhas awarded over $64,000 in grants across the province to support youth-led kindness and bullying prevention initiatives.
"One of the best things we can do is instill kindness at a young age," said Lyndsey Pankratz, SaskTel's I Am Stronger Project Manager. "By helping to encourage and empower youth to be kind and do nice things for others, it allows them to see that they have the ability to make a positive change in the lives of others."
As we celebrate I Am Stronger month this November, you can read other Community Stories about how a small amount of kindness can make a huge difference. You can also learn about I Am Stronger activities year-round on Facebook, Instagram and Twitter.
To learn more about the SaskTel Pioneers, please visit their website.
About community stories

We volunteer, give time and money to great causes, and we partner with caring and visionary Saskatchewan organizations. Check out the latest news in our community stories.
Read more
Categories