2013 SaskTel scholarship recipients
2013 SaskTel scholarship recipients
University of Saskatchewan
Ambure Parent
Pursuing an Accounting degree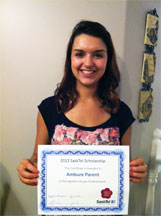 I aspire to obtain my accounting degree from the Edwards School of Business at the University of Saskatchewan. After my convocation, I hope to find employment in an accounting firm where I can obtain the required knowledge and experience needed to start my own accounting business in Saskatchewan.
Avery Cornelius
Pursuing an Engineering degree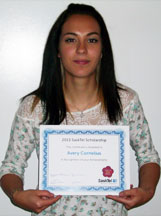 I hope to become an electrical engineer and either work in Saskatchewan or find a job that requires travelling.
Barbra Spetz
Pursuing an Accounting degree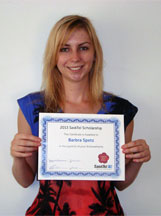 My future aspiration is to become a Chartered Accountant, and then work for a non-profit organization so I can put my skills to use in helping out communities and those in need.
University of Regina
Brenda Thiessen
Pursuing a Business Administration degree Majoring
in Accounting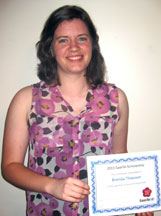 Currently, I am attending the University of Regina in the Bachelor of Business Administration program. Once I have completed the Bachelor of Business Administration degree, I plan to enter the workforce and pursue Chartered Accountancy. I want to use my training to impact the lives of others. I have had many opportunities to use my leadership abilities and to volunteer not only within the community, but also further afield. From baking pies at Thanksgiving to supporting a sponsor child in Indonesia, to building a church and distributing clothes/food hampers in San Carlos, Mexico, to helping clean up after the flood in Minot, North Dakota, all these activities remind me of all I have to be thankful for and encourage me to be involved and to make a difference when possible. As Albert Einstein once said, "Try not to become a man of success, but rather try to become a man of value." That is my goal.
Masonga Chipanshi
Pursuing a Business Administration degree Majoring
in Accounting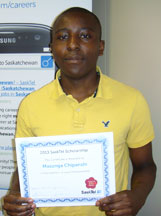 Once completing a Business Administration degree at the Paul J. Hill School of Business, I plan to pursue a Chartered Professional Accountant designation. With the tools I gain from my education, I hope to become a well-rounded business professional. My aim is to travel the world and gain invaluable experience in a variety of industries, environments and economies. I intend to stay active in my community and encourage others to do so. With the experience I acquire, I wish to be influential in the development and application of public policies that increase the quality of life within society.
Brayden Willenborg
Majoring in Software Systems Engineering and minor in Electronic Systems Engineering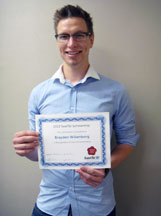 I find the most enjoyment in taking everyday business processes, especially ones that are often laborious and time consuming, and using software and electronics to automate these processes to save precious time and money. This area is known as enterprise application software engineering and is one of the most sought-after fields for software engineers today. I enjoy this area of work because it requires a strong technical understanding of software engineering and information systems, plus a general understanding of how organizations operate along with the people within them. Enterprise application software is a rapidly expanding market and one that I hope to be a part of.
Saskatchewan Indian Institute of Technology (SIIT)
Jennifer Porter
Information Technology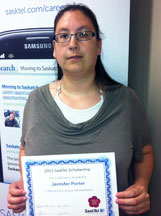 I want to enhance my professional skills through education and work experience and to gain technical and professional development in the information technology field. I would also like to find work close to family in Saskatchewan.
SaskTel Gord Kuhn Scholarship
Alex Laird
Pursuing a Business Administration degree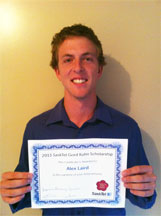 I want a business career with a progressive company. My personal interests are in human resources and management.