2018 SaskTel scholarship recipients
2018 SaskTel scholarship recipients
University of Saskatchewan
Kirsten Neville
Home Town/City: Esterhazy
Area of study: Chemical Engineering
Future aspirations: I have recently been admitted into the College of Engineering with direct entry into Chemical Engineering. I chose this career path because of my interest in both maths and sciences. In my third year of study I hope to take part in the co-op program so that I can intern and gain on-the-job experience. I look forward to using my leadership ability to help my community and the company that I will work for. After receiving my degree, I hope to be able to travel.
Thoughts on being a recipient: I feel very honored to be a SaskTel Scholarship recipient. I have always worked very hard at everything that I do. This scholarship will contribute to my tuition and take some stress off of all my new bills. I am incredibly grateful that SaskTel recognizes my potential.
Cassidy Venne
Home Town/City: Saskatoon
Area of study: Marketing
Future aspirations: My future aspirations are to successfully complete my marketing degree and honours project at the Edwards School of Business, and then further my education by either pursuing my masters or going into law. My current career goal is to obtain an occupation in the field of marketing, specifically in the music industry or global marketing, and be able to incorporate that with my love of travelling. I decided to pursue a marketing degree because of my interest in international relations and communication, and I strive to continue to learn more about international business.
Thoughts on being a recipient: I am honored to have been chosen to receive this scholarship. In the fall, I will be studying abroad at NEOMA Business School in France, an invaluable yet expensive opportunity. This experience is both an essential aspect of reaching my career goals and aspirations of travelling, and this scholarship will go towards achieving this dream. Receiving education abroad is an incomparable opportunity, and I am so grateful to SaskTel for contributing to furthering my education internationally.
Samia Sami
Home Town/City: Saskatoon
Area of study: Electrical Engineering
Future aspirations: After completing my Bachelor's degree, I hope to pursue Master of Science in Electrical Engineering. I want to positively contribute to innovation in STEM areas with my graduate research. I will then practice engineering to obtain my Professional Engineering license. I am very driven by my passion to become an influential leader in my field. While achieving these goals, I will continue to strive to make a difference in my community and beyond by leading initiatives, staying involved through volunteering, and making positive impact on others around me.
Thoughts on being a recipient: I am honored to be one of the recipients of the SaskTel Scholarship. I feel extremely appreciative for receiving this award which boosts my confidence and inspiration to realize my dream of becoming a successful engineer. Thank you, SaskTel, for enabling this opportunity! Without scholarship donors willing to support education, students such as myself would be unable to pursue a university degree with such peaceful mind.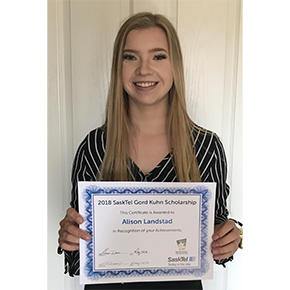 Gord Kuhn Scholarship Recipient
Alison Landstad
Home Town/City: Yorkton
Area of study: Bachelor of Commerce- Marketing Major
Future aspirations: I plan on pursuing a career in a marketing-based occupation with a focus on branding and digital marketing. Throughout the rest of my schooling, I plan on continuing my involvement with campus organizations including JDC West and Enactus University of Saskatchewan. This includes devoting my time to activities in the community such as volunteering at the Ronald McDonald House and local charity events.
Thoughts on being a recipient: I am grateful for being the 2018 recipient of the Gord Kuhn Scholarship. To be awarded a scholarship that acknowledges strong leadership, communication, and relations with others in an organization is an honour. I strive to excel in these critical areas of business to promote effective operations.
Ryssa Mae Alarcon
Home Town/City: Saskatoon
Area of study: Bachelor of Commerce - Marketing Major
Future aspirations: In terms of my educational aspirations, I certainly plan to get a Master of Science in Marketing and/or Master of Business Administration after obtaining my Bachelor of Commerce degree in Marketing.
For my career aspirations, I would like to either work for a non-profit organization or continue working for the government (Federal/Provincial). I want to use my educational background and other relevant skills to lead marketing/communications/international development initiatives and promote services for different causes such as anti-animal cruelty, eradication of poverty, diversity, and supporting children who suffer from life-threatening conditions. In alternative, I also aim to work for companies, though for-profit, that give back to the community and support charities, just like SaskTel.
Furthermore, after my experience in working for the provincial government last summer, and currently, I became interested in branching out to the federal government and potentially joining their marketing team to implement more innovative strategies.
Thoughts on being a recipient: I am thankful for the scholarship that SaskTel provided me as it will allow me to enjoy my educational journey instead of worrying about mandatory school expenses. Knowing that SaskTel places high importance in contributing to the community through their recycling campaign, bullying awareness initiatives, and student scholarships, I feel truly honoured to be one of the individuals that they wanted to invest in.
University of Regina
Brandon Holtzman
Home Town/City: Regina
Area of study: Electronic Systems Engineering
Future aspirations: To become an independent member of society and to be a well-known and respected individual within my line of work.
Thoughts on being a recipient: To be able to have a $3000 scholarship for what will be the most stressful time of my life is a blessing. To be a chosen candidate out of so many who applied is very inspiring.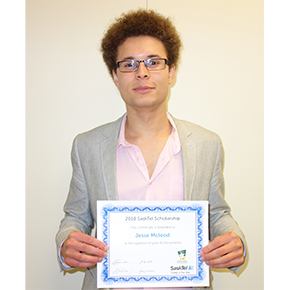 Jesse McLeod
Home Town/City: Regina
Area of study: Computer Science
Future aspirations: That's a big question! I am fascinated by the new forms of technology that have been developed in the past few years and decades, so I definitely want to be somewhere where I can be a part of the development of even newer technologies. In particular, I see a lot of potential with the new types of AI that we're starting to see on the market, like driverless cars and smart home devices, which present unique computational and ethical problems, but could also provide enormous benefits for humanity as a whole.
In the long run, I plan on getting a Master's and eventually a Ph.D, so that I can teach at a university.
Thoughts on being a recipient: Enormously grateful. This will go a long way towards helping me obtain the education I need to pursue my dreams and aspirations. There are really no words to express my gratitude towards SaskTel, which – between this scholarship and my recent Co-op position – is almost singlehandedly supporting my academic and career goals.
Nia McKay
Home Town/City: Fort Qu'Appelle
Area of study: Business Administration
Future aspirations: Academically my future aspiration is to obtain my Bachelor's Degree in Business Administration. I am very fond of working with numbers and I enjoy the challenge of problem solving, therefore I am leaning towards majoring in accounting.
Thoughts on being a recipient: I am extremely honored and appreciative to be chosen as a recipient of the SaskTel Scholarship. I am humbled to have my hard work be acknowledged and rewarded.
This scholarship will help fund my academic journey towards my Bachelor Degree in Business Administration.
I cannot thank SaskTel enough for this grand opportunity to obtain my academic goals.