2019 SaskTel scholarship recipients
2018 SaskTel scholarship recipients
University of Saskatchewan
Tanner Washington
Home Town/City: Yorkton
Area of study: Mechanical Engineering
Future aspirations: My future plans include obtaining a Bachelor of Science in Mechanical Engineering, which I can use as a foundation for Biomedical Engineering. I would like to be able to design prosthetics or new medical technologies that would benefit a great number of people. I enjoy the challenges that are involved with building/designing different technologies/devices, and Biomedical Engineering would be a great way to pursue my passion, while also helping others out in the process.
Thoughts on being a recipient: I am very honoured to be one of the few recipients of the Sasktel Scholarship. This scholarship will help me immensely as I will be able to focus on excelling with my studies, rather than having to worry about finances. This scholarship means a lot to both myself and my family, and I am incredibly grateful to have been given this award. Thank you Sasktel for helping me work towards the academic goals that I have set for myself in the coming years.
Maham Fatima
Home Town/City: Saskatoon
Area of study: Computer Science
Future aspirations: My plan for this fall is to begin my studies at the University of Saskatchewan which I was accepted into on the spot in september to get my 4 year computer science degree. I also look forward to continue to be involved in my community throughout university. Upon achieving my degree I hope to start a successful career and stay involved in the community through volunteer work and initiatives. I am very excited to pursue computer science as I really enjoyed the class these last two years and the extracurricular activities I attended throughout high school. I can't wait to see what the future has in store for me!
Thoughts on being a recipient: II am honored to be one of the recipients for the 2019 SaskTel Scholarship. This will greatly help me in the upcoming year to help pay for my tuition. I am so grateful for SaskTel for helping me pursue higher education and relieving me of some of the stress related to university costs. Sasktel is a leader in community involvement with programs like I Am Stronger and Be Kind Online and I am so thankful that I was given opportunities to make a greater impact on my community through these amazing programs and also how the company is helping students like me follow their passion and hope for the future through education which will lead to fulfilling careers.
Gabrielle Abraham
Home Town/City: Waterhen Lake First Nation
Area of study: Marketing
Future aspirations: I hope to successfully complete my degree in Marketing. I also hope to extend into political science, indigenous studies, and/or law. My overall mission as a student is to promote post-secondary education to small communities and show future generations that it is possible to succeed in post-secondary education and show them what is available to them.
Thoughts on being a recipient: I am truly humbled and honored to have been chosen for such a competitive scholarship. As a continuing student coming from a small institution (SIIT) it's that much more rewarding and makes me believe I can succeed in absolutely anything I put my mind to. This scholarship will not only help in my living expenses but also will allow me to become involved with the community to build on myself as an Indigenous woman and a student.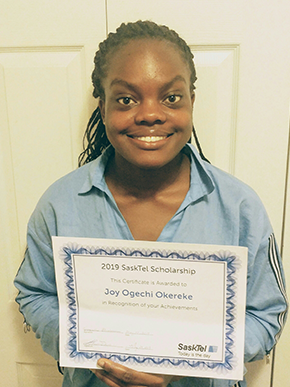 Joy Okereke
Home Town/City: Saskatoon
Area of study: Computer Science
Future aspirations: My future aspirations include becoming a cybersecurity expert and joining forces with other talented experts to make the cyber world safe for everyone. I also intend to create fun educational apps to make learning more enjoyable for all.
Thoughts on being a recipient: It is an honor and a privilege to be a Sasktel Scholarship recipient.
University of Regina
Gord Kuhn Scholarship Recipient
Adam Metz
Home Town/City: Regina
Area of study: Software Systems Engineering
Future aspirations: My passion is software, computers, and technology. I will be furthering my education at the University of Regina in the Faculty of Engineering. After completing my degree I want to combine my knowledge and love of problem solving to make a difference in the world. I will work for a company that is a good corporate citizen and will work with that company to build a stronger community. I want to make a difference personally and professionally.
Thoughts on being a recipient: I am very honoured and grateful to be the recipient of the 2019 Gord Kuhn Scholarship. I am very proud and humbled to be selected for such a prestigious award. I have focused and worked hard on my academics and being honoured with this scholarship has motivated me even more as I prepare for my next challenge at the University of Regina. Thank you SaskTel, for recognizing my potential and helping me to achieve my goals.
Bailey Armstrong
Home Town/City: Regina
Area of study: Engineering and Applied Science
Future aspirations: It is my dream to become a Professional Engineer, majoring in Electrical Systems. I will take part in the co-operative program at the University of Regina to gain work experience and knowledge in the field. I also hope to inspire the new generation of young females in that they can achieve whatever they set their minds to, including their participation in STEM programs. As an engineer, I can pioneer the new world; I'm responsible for generating the ideas, preparing the plans, and executing the outcome flawlessly so that it benefits society. I am more than thrilled to spend the next years of my life learning all the fundamentals of engineering so that I can change the world as a person, as a woman, and as an engineer.
Thoughts on being a recipient: I am honoured to be SaskTel's 2019 scholarship recipient. I have worked tirelessly in my high school years to achieve an overall average of 98%, choosing hours of studying and volunteering my time in my community over the typical teenage outings on weekends. I feel that my hard work is proving itself since I've graciously earned this SaskTel scholarship that will undoubtedly aid my journey through future studies. Engineering, like any faculty at university, has a plethora of expenses which range from books to tuition; thus, this scholarship money will help me accomplish my dreams and be successful as a Professional Engineer.
First Nations University of Canada
Cara Grimard
Home Town/City: Prince Albert
Area of study: Business Administration
Future aspirations: My future aspirations is to obtain my business administration degree while majoring in management. I would like to have a career where I can help people with their education and career goals. I want to build myself into a working professional and contribute to my community.
Thoughts on being a recipient: I am very grateful and honoured to be chosen as a recipient of the Sasktel Scholarship. Being a recipient shows my hard work is being acknowledged. With being a parent and student this scholarship really helps take the financial stress off my household. Thank you Sasktel for your generous award.
St. Peter's College (UofS)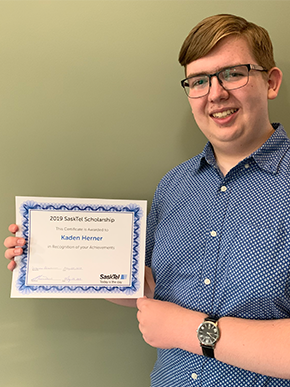 Kaden Herner
Home Town/City: Dodsland, Saskatchewan
Area of study: Engineering
Future aspirations: I plan to work on researching and developing new, better methods of green energy generation, as well as faster technologies for transportation and communication. I hope to eventually be the owner of my own research firm, and to be producing technologies that benefit Saskatchewan, and beyond.
Thoughts on being a recipient: I am thrilled to be a recipient of the SaskTel scholarship! It is a big help to cover the costs of university, and will allow me to focus more time onto my studies.