Customer success stories
Wireless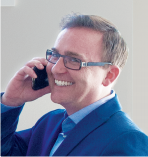 Dmyterko Enterprises Ltd. has been serving the excavation needs of the city of Prince Albert since 1976. SaskTel Wireless Modem service helps Perry Dmyterko keep in touch with the office by receiving his faxes and other correspondence by email. He is also able to complete and email quotes directly from the site, which saves driving time and gas expense.

"Wireless Modem service is a very efficient service. I think it's something that's a necessity, as much as a cell phone," Perry says. "It's something everyone should consider, and really is the future of business."
Perry Dmyterko, President Dmyterko Enterprises Ltd.
Prince Albert

Read more about Dmyterko Enterprises Ltd. Testimonial
---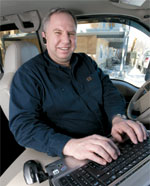 Kyle Folk is founder of IntraGrain Technologies Inc. and the manufacturer of Bin-Sense™, a wireless remote monitoring system for grain bins that uses SaskTel M2M technology. "I call my grain monitoring system an assurance for producers to know their grain is safe."
Kyle Folk, President and Owner
IntraGrain Technologies Inc.
Read more about IntraGrain Technologies Inc.
Let's start a conversation
Call 1.844.SASKTEL