Managed Hosting
Testimonials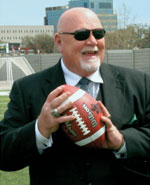 For over 60 years, the Saskatchewan Roughriders have been your community team. The Riders have won the Grey Cup four times (so far!) and the hearts of football fans all across Canada.
Here at SaskTel, we revel in our Rider Pride. We've even teamed up with the Riders to help with their communication strategy and IT support.
The club uses our Managed Hosting service to handle the increased IT demands generated by their rapid business growth and popularity. Let's go Riders!
"SaskTel has been critical in meeting our needs and growing our business."
Jim Hopson, President & CEO
Saskatchewan Roughrider Football Club
Read more about the Roughriders

---
MacNeil Motors was dealing with computer breakdowns, regular maintenance, data loss issues, and unreliable off-site connections. Ed Thiessen, IT Manager, handled all of their IT operations including managing their on-site servers. By moving to SaskTel Managed Hosting he was able to free up 10 to 15% of his time to focus on other revenue generating tasks.
Read more about MacNeil Motors.
Let's start a conversation