Wavelength
Connect at the speed of light.
As demand for high-capacity bandwidth increases to meet the growth in data-intense transmissions, the challenges to your network connectivity capabilities can be extreme. Delays can affect productivity, the bottom line, and your business success.
Using Wavelength Division Multiplexing (WDM) technology, SaskTel Wavelength service offers ultra-high bandwidth connectivity your business needs to support latency-sensitive functions, large and frequent data transfers, and various networking applications. The point-to-point connection provides ideal protection for disaster recovery, off-site data backup, and inter-connection of storage area networks.
Wavelength is currently available in Regina, White City, and Saskatoon (within the same metropolitan area or between cities).
Benefits
Fast, symmetrical speeds and high network performance. With up to 10 Gbps bandwidth on each wavelength, you'll get a reliable connection with extremely low network delay allowing the network to reach your business faster with nearly real-time connectivity.

Reliable bandwidth guarantee. Our protected Wavelength service is offered with a 99.999% uptime guarantee.* We test our network with your business requirements to ensure the bandwidth we deliver is what you need. Our operations team monitors and manages your Wavelength service 24/7 and our Service Level Agreement (SLA) provides aggressive service restoration targets. You can rest assured that we will keep your business up and running every single day.
Service performance monitoring and network protection. You get 24/7/365 priority network monitoring and technical support from SaskTel Network Operations. We proactively react to service monitoring and promptly investigate and notify you if an alarm has been detected. The SaskTel Wavelength service also features protection options like enterprise service fail over between locations and business continuity for mission critical operations, a guaranteed latency commitment, and stringent SLA.

Flexible and Scalable. With a range of connectivity options, we will work with you to develop the best networking solution to meet your needs, and we'll adapt with you as your needs change. A new channel can easily be added to any existing Wavelength service.

Top
How it works
SaskTel has two metropolitan WDM networks - one in Saskatoon and one in Regina - and an intercity WDM network between the two cities. Our WDM networks provide multiple fibre paths to deliver full physical diversity when your business needs a network design between sites, delivering at least 99.999% network availability.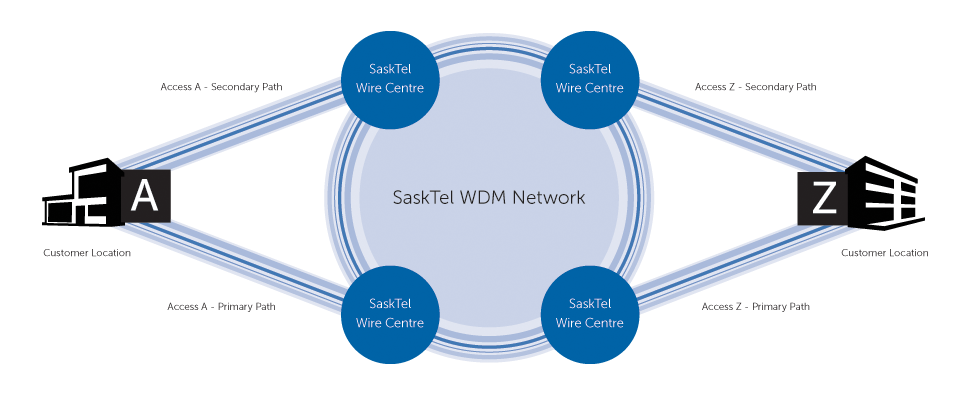 Our Data Centre locations are built as part of our WDM network, providing a cost-effective means of creating business continuity and disaster recovery sites between your existing server environment and our Data Centres.
Learn more about how Wavelength works.

Top
*Some conditions apply.

The monthly reoccurring charge is dependent on the term of the agreement, either 3 or 5 years.
A one-time service connection charge is applicable.
A one-time construction cost applies based on location dependent on availability of fibre facilities and the construction costs to extend fibre across to the location. Costs are quoted on a case by case basis.