Strategic Security Assessment
Starting at
$15000/per hour


Get the right information to make sound and informed business decisions.

A Strategic Security Assessment from SaskTel offers a comprehensive risk analysis report about exploits and possible threats to which your IT policies, procedures, networks, and systems are vulnerable. These exploits and threats are ranked according to their risk levels along with detailed information describing how they work. You will have the information you need to understand the risk vs investment of implementing safeguards to achieve maximum protection of your IT environment.
Why get a Strategic Security Assessment?
Security recommendations to meet business requirements
External expert security analysis and technology expertise to assist you with the complexities that are inherent in today's new IT solutions
Foundation for overall security strategy and architecture design
Identify threats and vulnerabilities within your organization's IT environment
Prioritize threats and corrective actions according to the risks
Top
Which security assessment is right for you?
The most important element in any security program is the accurate assessment and management of security risks and vulnerabilities. Your security assessment may include any, or all, of the following: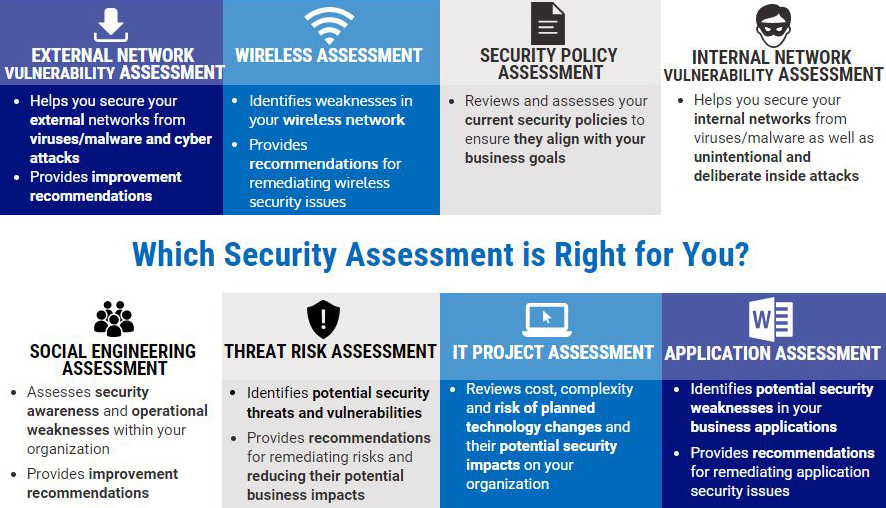 Top
Pricing
A complete assessment starts at $150.00 per hour. Pricing may vary depending on the assessment requested and is negotiated on a case-by-case basis.
Top