Portable Internet Adapters
Get the speed and reliability of a wired Internet connection without drilling holes or running wires!
Our Portable Internet Adapter uses the electrical lines already in your home. Just plug into a regular electrical outlet, and connect it to your smart TV, game console, or other device with an Ethernet cable. You can even move adapters from room to room as needed.
Monthly price is $5 for the first Portable Internet Adapter and $3 for each additional one.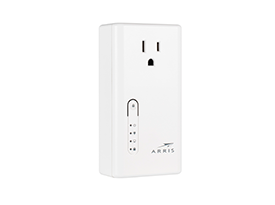 Available as an add-on when subscribed to an interNET or infiNET plan. If the customer wishes to discontinue use of the Portable Internet Adapters or disconnects SaskTel Internet service, they will need to return any Portable Internet Adapters in their possession. Charges will apply if the equipment is not returned.
All prices and fees are subject to applicable taxes.