With a maxTV wireless set-top box, you can move your TV wherever you want. Enjoy movie nights in the backyard, catch sports on the deck, or simply get around to rearranging the living room.
Watch TV anywhere in your home or backyard—all you need is a power outlet.¹
No rewiring means no holes drilled into your walls.
Nice and neat—no need to hide messy cables.
You can have up to 3 wireless set-top boxes.
It's easy! Pick up your wireless set-top box and video access point (VAP) at a SaskTel Store or order it from 1.800.SASKTEL (1.800.727.5835), then follow simple step-by step instructions.²
SaskTel installers are also available to perform your initial setup. Call 1.800.SASKTEL or visit a SaskTel Store to book an appointment.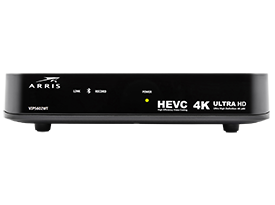 ¹Customers are free to move their wireless set-top boxes anywhere on their property; however, service is only supported when the VAP and the wireless set-top box are within the same building.
²See Self-install guide: Adding an ARRIS 2502 wireless set top box with a Video Access Point and Self-install guide: Adding an ARRIS 5602 wireless set top box with a Video Access Point.
SaskTel does not guarantee wireless maxTV service. Whenever a wireless signal is used, there are many factors that can impact signal strength and quality, including the distance between the set-top box and the Wireless VAP, construction materials used in the home, and other interference.
The wireless set-top box requires a wireless VAP (one-time equipment upgrade fee of $24.75) to be attached to the gateway. You can have up to 3 wireless maxTV devices synced to the VAP at the gateway. You can only have one VAP attached to the gateway.
VAPs are intended for use with maxTV service only; any other use is not supported. These devices are not for use with maxTV PVR set-top boxes (model number VIP 1216 or VIP 2262).
VAPs and set-top boxes are rented equipment and remain the property of SaskTel. These devices must be returned to SaskTel if maxTV service is cancelled.
maxTV does not offer 4K content; however, you can watch 4K content on the ARRIS 5602 or ARRIS 5662 set-top box if you subscribe to a Netflix plan that supports Ultra HD (4K) and your TV is compatible. See Using the Netflix app on the ARRIS 5602 maxTV set-top box for more details.