WHL players talk holiday traditions

WHL players talk holiday traditions
Actions
It's time. We love watching festive movies with a cozy blanket and a steaming mug of hot chocolate or apple cider. So starting December 5th, maxTV is playing holiday classics, available On Demand and on our regular channels.
SaskTel is also a proud sponsor of the Saskatoon Blades, Moose Jaw Warriors, Swift Current Broncos, and Prince Albert Raiders. So we figured who better to ask about their favourite holiday traditions, films, and treats than some of the top WHL players around!
Fave winter activities (other than hockey)?
Jake Kustra (Saskatoon Blades): Making snow forts. We used to get all the snow in our backyard and make a huge pile.
Brett Howden (Moose Jaw Warriors): I loved Skidooing. My dad had two of them, he would always pull a toboggan behind them. We built a bunch of snowmen and had snowball fights. In a small town, everyone plays together, especially when you're off school during a snow day.
Parker Kelly (Prince Albert Raiders): Sledding. We have a big ski hill in my hometown so we always went.
Colby Sissons (Swift Current Broncos): I got into Fantasy Football recently. It's a big thing on our team!
Favourite holiday movie?
Dryden Michaud (Saskatoon Blades): Elf! I love the part when he's in the store and sees Santa.
Gage Ramsey (Saskatoon Blades): Rudolph the Red-Nosed Reindeer. My fave scene is the one with the big abominable snowman. He's so funny looking!
Colby Sissons: The Grinch with Jim Carrey! I used to watch it 3 or 4 times a year at least.
Jake Kustra: Elf. The snowball fight is pretty great.
Brett Howden: Elf. I like when he's singing in the bathroom. I actually watched it about two weeks ago.
Parker Kelly: Elf, for sure. Love the part where he's eating the gum off the rails.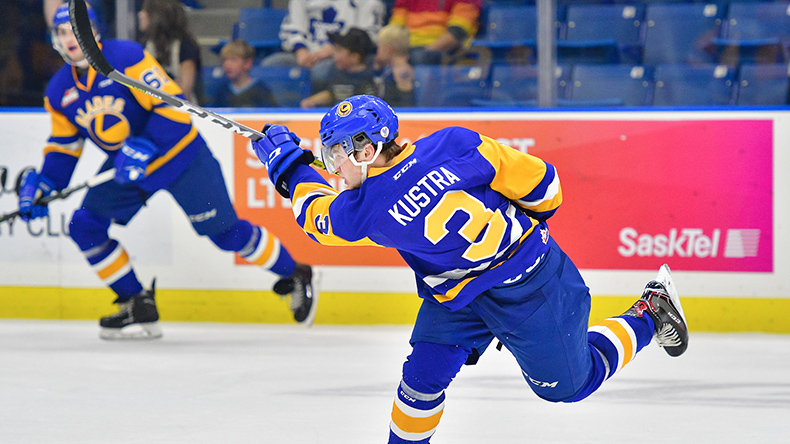 Favourite holiday song or album?
Dryden Michaud: I got a whole album of Christmas music. Mariah Carey is the go-to.

Brett Howden: Michael Bublé. He's our pump up music on the way to the rink!
Favourite festive dessert/treat?
Colby Sissons: I really love the classic pumpkin pie. We get it twice a year!
Dryden Michaud: I really like traditional candy canes. We also always eat eggs benedict, which my mom makes—and I can't!
Gage Ramsey: Eggnog. There's no such thing as too much eggnog.

Jake Kustra: My grandma makes a good cherry cheesecake that I look forward to when I go home. It's a secret grandma recipe. I'm also big into the gingerbreads and my sister usually makes these peanut butter balls that are pretty lethal.

Brett Howden: All my mom's baking, it's delicious. She makes a ton around Christmas time, cookies, cakes...her baking is pretty amazing. She has to make new treats every day because we're always eating them!

Parker Kelly: My grandma makes some pretty good Christmas cookies, so I snack on those when I'm home for the break. They are sugar cookies with cream cheese frosting.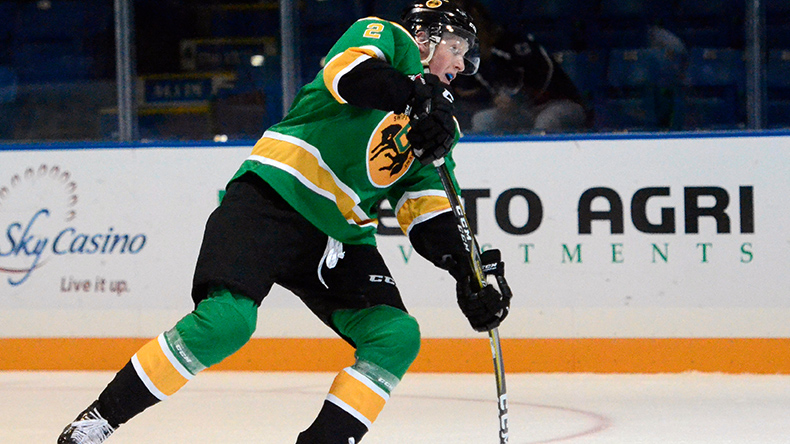 Any special family traditions?
Gage Ramsey: As a kid I used to have a rink in my backyard. What I love to do now is to go to an outdoor rink somewhere and play with friends.

Brett Howden: We always get together on Christmas Eve to open just one present. Both my siblings have dogs, so we have three dogs running around.
Toy you wanted most as a kid?

Dryden Michaud: Nintendo Wii. There's a big story about my mom not being able to find one until Christmas Eve. It was a big, memorable surprise.

Gage Ramsey: I was really into LEGO Bionicles as a kid. I always wanted more so that's what I would wish for.

Jake Kustra: I really wanted a PS3. I eventually got it so I was pretty fired up. Always played as the Penguins, I was a huge Crosby fan!

Brett Howden: A new hockey stick. I would usually get hand-me-downs from my brothers, so Christmas was my time to get a new one. Otherwise I liked remote control toys...that was always every kid's favourite thing.

Parker Kelly: I really wanted mini hockey sticks and nets. Those were the best growing up!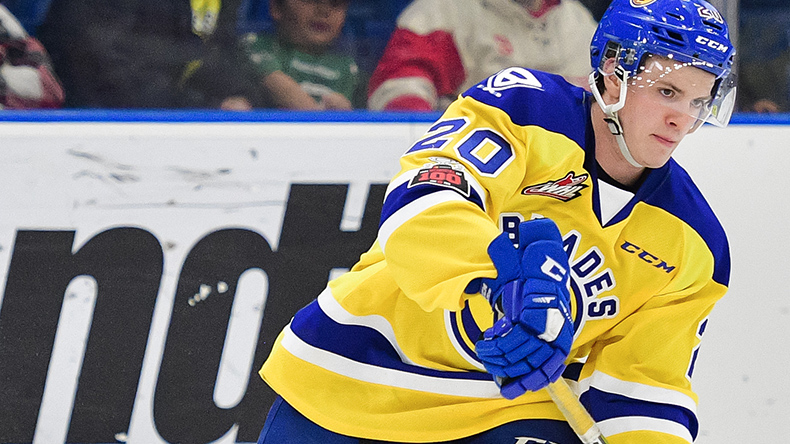 Who do you call, text, or Snap on Christmas Day?
Gage Ramsey: My teammates. I text them "Merry Christmas, boys!"

Brett Howden: I call my grandparents, but when I'm with family, we put the phones away and spend time together. It's fun when everything shuts down.

Don't have your own traditions yet? Today is the day to start one!
---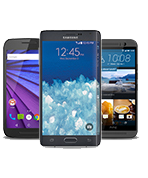 This holiday season. catch Elf and other holiday classics no maxTV!