Today is the day we give back to SK

Today is the day we give back to SK
Actions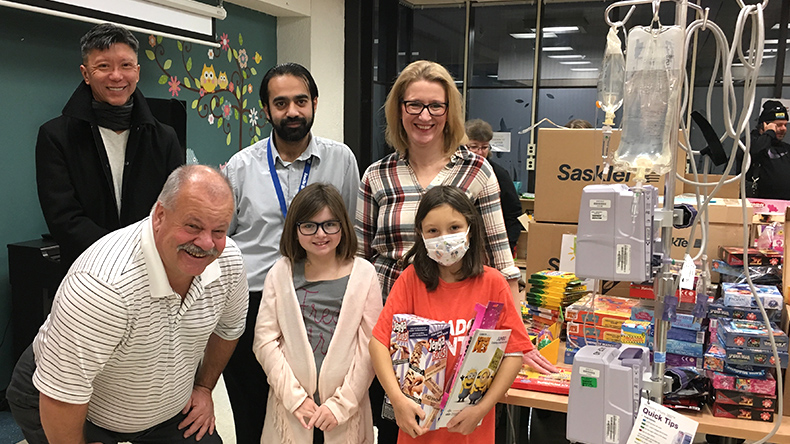 We're a company with big heart. Our employees come from all corners of the province, so we're passionate about giving back to our neighbours and friends in the communities we live in.
Every year, we participate in several special holiday initiatives that help fuel and support our community. This year, we wanted to share some of those stories with you. We hope giving back brightens the holidays for those across the province. After all, "Today is the day" to help Saskatchewan thrive by making a positive contribution in the community and putting smiles on children and adults alike!
SaskTel employees and the Comfort For Kids Challenge - Fall, 2017
All the way back in September, we asked our employees to bring in a variety of toys and gifts. And we're proud to say that our people delivered. In just under two months, they donated over 3,500 toys, books, and games. And on November 28th, we brought these toys to six different hospitals around the province through the Jim Pattison Children's Hospital Foundation.
Watch the Comfort Packs video

Our employees didn't stop there. They also donated over $27,000 in cash to Teddy Bears Anonymous, a non-profit organization founded by two SaskTel retirees that provides teddy bears to sick children across the province. From November 27 to December 15th, over 6,750 teddy bears were distributed across Saskatchewan. Read more about it here.
But that wasn't the first time we gave back this season...
Random Acts of Kindness Day - November 3rd, 2017
On a chilly November morning in Saskatoon, the SaskTel Pioneers went out into the streets and performed random acts of kindness to fight the early winter chill. They handed out warm mittens as well as $5 Tim Horton's gift cards to strangers passing by, and left scarves and cards tied around trees and light posts. The only catch for the lucky recipients? For them to pay the good deed forward, in whichever way they could.
To top it all off, one unsuspecting Rider fan was also surprised with a signed Naaman Roosevelt Roughriders jersey!
Watch the RAOK video
Flash forward to December. With the Comfort Packs delivered, we set about spreading the holiday joy to many other children and families around the province.
Family visits to The Enchanted Forest in Saskatoon - December 4th, 2017
Once again, we turned to the SaskTel Pioneers to volunteer their efforts. This time it was to provide tours and transportation to the magical Enchanted Forest in Saskatoon - an amazing drive-thru holiday display of lights and cheer. The forest raises over $200,000 each year for the Saskatoon City Hospital Foundation and the Saskatoon Zoo Foundation.
As a proud sponsor of the event, SaskTel loaded some buses full of school children and drove them through the forest for a magical experience. Preceded by a Christmas carolling session, the evening ended with treat bags for all the lucky kids.
Watch the Enchanted Forest video
But amongst all this holiday cheer, there seems to be a certain someone missing thus far..
Santa Face-to-Face- December 12th, 2017
An annual tradition at SaskTel, Santa Face-to-Face visit for children with disabilities is a wonderful event where children with special needs get to meet one Santa Claus himself! On December 12th, a lucky group of children from various Regina schools were able to meet with Santa in a safe, secure, and comfortable environment. Even better was the fact that Santa oddly resembled SaskTel retiree Jim Goldie!
As the big day approaches and Santa heads North to prepare, our SaskTel employees delivered on one final deed…
The Wish Angels (December 18-19, 2017)
Every kid wants that special something at Christmas. And that's where our employees step up to give back one more time for holidays.
The SaskTel Wish Angels program allows various employees to fulfill individual children's wishes, which are written on special wish cards and posted in the SaskTel office. The employees are invited to purchase as many of the wishes as they desire, and the wishes are granted the week before Christmas. This has been a tradition here since 2007, and it's one we're especially proud of.
The Season of Giving Back at SaskTel
We are proud to employ so many people who are eager to open their hearts, donate their time, and give back to their communities in which we live and work - not just during the season of giving back, but all throughout the year. When it comes to giving back, "Today is the day" every day of the year!