SaskTel helping people with cognitive disabilities reach their full potential
SaskTel helping people with cognitive disabilities reach their full potential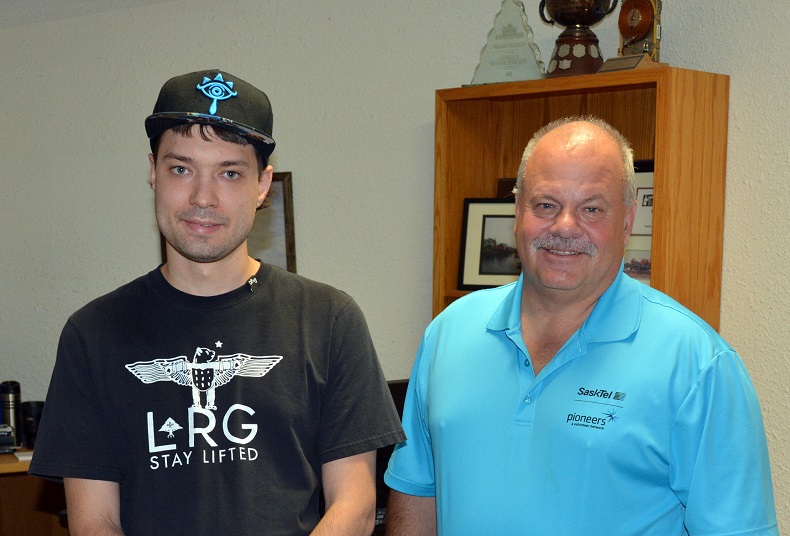 Every October, National Disability Employment Awareness Month brings Saskatchewan residents together to recognize the positive contributions employees with disabilities have on the workplace.
The ability to secure and retain meaningful employment is still a very real challenge for people with disabilities. They often struggle to showcase the value they bring to an organization due to barriers such as daunting recruitment practices or the lack of support services available within the workplace.
While this reality has forced many organizations to take a good, hard look at their hiring processes, SaskTel's Supported Employment Program continues to seize the opportunity and offer support to those who need it most.
"SaskTel is committed to creating an open and inclusive work culture that exceeds the expectations of our customers," said Sharon Davis, SaskTel's HR Manager, Strategic Planning and Staffing. "In Saskatchewan's growing labour market, those individuals we might categorize as 'disabled' often have the abilities, skills and positive attitude needed to make a meaningful contribution to our workforce. Sometimes, all it takes is a little extra help and an employer willing to give them a chance."
Over the past seven years, SaskTel has partnered with the Saskatchewan Abilities Council (SAC) on a formal supported employment program that provides employment opportunities for people with cognitive disabilities. The program connects SaskTel with community-based organizations to help identify candidates who have the potential to deliver tangible benefits to the workplace.
Results of the program have been impressive. Since its inception, SaskTel has worked with a number of organizations to support 14 new employees. Working in a variety of roles, 11 are still with SaskTel today.
The strength of the program is rooted in the processes that have been established. Individual managers and departments collaborate with SaskTel's Selection and Staffing team, union members and external partners to develop an employment opportunity that meets the skillset of a specific candidate. All potential candidates are evaluated on their skills, abilities and interests. They also take part in an informal interview with the hiring manager and in a brief site visit.
If there is a match between SaskTel's needs and the skillset of a candidate, a job-carve position is created. From there, the organization partners with SAC to develop a workforce integration plan and a SAC employment specialist is assigned who works with the hiring manager and the employee to develop job aids and work through routines. A job coach is also provided to help the employee integrate into the workplace.
SaskTel's support for employees with disabilities reaches beyond the Supported Employee Program. It also has an employee network that is focused on the needs of those with disabilities in the workplace.
"The SaskTel Employment Network on Disability (SEND) is a place for like-minded people to gather for support, and to support, each other, our community and SaskTel as we strive to be fully inclusive," said Michelle Gray, member of the SEND executive.
SEND also acts as a subject matter expert on diversity-related initiatives, helping SaskTel management and employees to better understand disability issues by implementing inclusive programs, products and services.
Darrell Liebrecht has seen firsthand how impactful that collective support can be. Since 2012, the Pioneers Manager has had an employee under the Supported Employment Program working for him. Liebrecht says the program continues to play an important role in creating a strong and caring work environment that thrives on people helping people.
"It has been a pleasure to work with Shea and to watch him grow, both as a person and as an employee," said Liebrecht. 'When I welcomed him to my team five years ago, he was a very shy young man who was unsure of himself. Today, he is a confident and self-sufficient employee with a strong work ethic. He has become an integral part of my team and a valued member of the SaskTel family. I believe he is at a stage now where he can work anywhere."
SaskTel has always been focused on employing people that mirror the diversity of the customers and communities it serves. The Supported Employment Program is a prime example of how the organization continues to build an inclusive workplace that welcomes and celebrates people from a variety of backgrounds.
Find out more about the Saskatchewan Abilities Council and National Disability Employment Awareness Month (#NDEAM) here.
About community stories

We volunteer, give time and money to great causes, and we partner with caring and visionary Saskatchewan organizations. Check out the latest news in our community stories.
Read more
Recent posts
Categories