SaskTel hosts first ever I Am Stronger Rally
SaskTel hosts first ever I Am Stronger Rally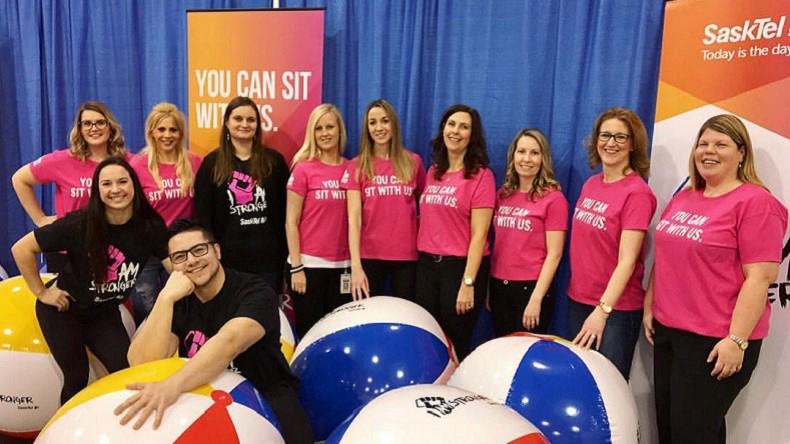 SaskTel employees and the SaskTel Street Team pose for a picture at the first ever I Am Stronger Rally on February 13, 2017.
In celebration of Pink Shirt Day, SaskTel was pleased to host its first ever I Am Stronger Rally on February 13, 2017 at Archbishop O'Neill High School in Regina, Saskatchewan.
SaskTel was thrilled to bring in an internationally renowned speaker, Dr. Sameer Hinduja, to present an informative presentation on cyberbullying. A Professor in the School of Criminology and Criminal Justice at Florida Atlantic University and Co-Director of the Cyberbullying Research Center, Dr. Hinduja is recognized for his groundbreaking work on cyberbullying and safe social media use. He has written seven books, is a noted speaker, and frequently provides expert commentary for news organizations such as CNN's Anderson Cooper 360, NPR's All Things Considered, the BBC, and The New York Times.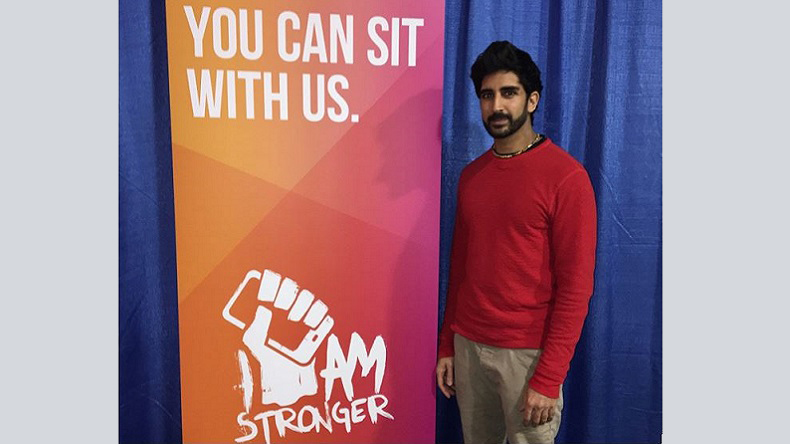 Dr. Sameer Hinduja poses with the SaskTel I Am Stronger banner following his presentation.
"We have never seen this much response from the students before!" exclaimed one teacher at the O'Neill rally as they reflected on how almost 850 students were engaged in the discussion.
"It is events like these that truly have an impact on the students of our province," said Lyndsey Pankratz, SaskTel Project Manager in charge of the I Am Stronger initiative. "Dr. Hinduja did an excellent job of communicating what cyberbullying looks like and how it can be prevented going forwards."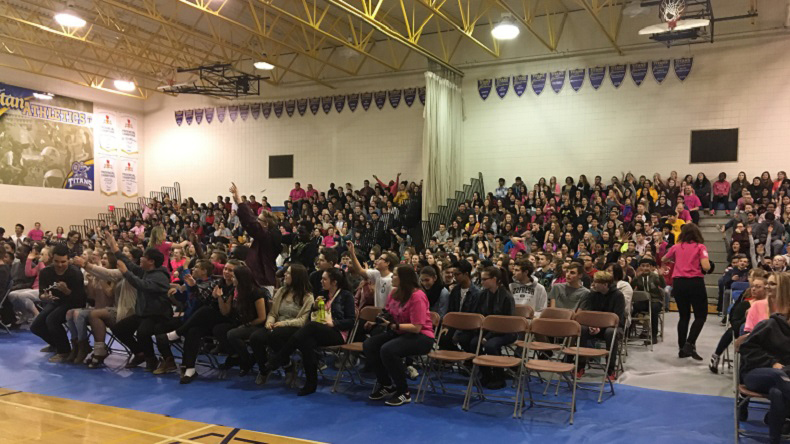 O'Neill High School students attempt to catch SaskTel swag as the I Am Stronger rally gets started!
Dr. Hinduja also used 'live polling' throughout the event to gauge the audience and shed light on how prominent bullying and cyberbullying can be in high school.
"We were all surprised to see that 87% of the students at the presentation identified with having been bullied in the past," added Lyndsey. "This is a substantial number and just reiterates the fact that bullying is a serious issue that affects many students. We need to continue to address the issue and offer solutions."
SaskTel is pleased with the success of this rally, and look forward to continuing to promote kindness in our schools and communities through the I Am Stronger initiative into the future!
For more information about Dr. Sameer Hinduja, please visit: www.hinduja.org
For more information about the SaskTel I Am Stronger initiative, please visit: www.iamstronger.ca
About community stories

We volunteer, give time and money to great causes, and we partner with caring and visionary Saskatchewan organizations. Check out the latest news in our community stories.
Read more
Categories