New technologies lead the way in connecting friends and family this holiday season
New technologies lead the way in connecting friends and family this holiday season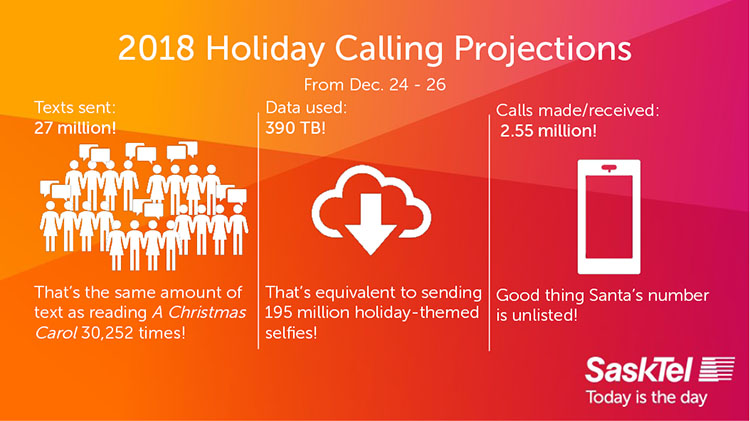 Whether it's via a tried and true classic like a call to or from their phone, or by taking advantage of the technologies made possible by the latest smartphones, large numbers of Saskatchewan residents will be reaching out and connecting with the people that matter most to them this holiday season on SaskTel's world class networks.
From Christmas Eve through Boxing Day, wireless services are expected to see a significant jump in use. SaskTel is projecting for wireless customers to send and receive well over 27 million text messages and place more than 2.55 million calls. That's nearly 3 times the volume of texts and calls made on Mother's Day; one of the busiest calling days in the year.
Even more impressively, customers are anticipated to use over 390 Terabytes (TB) of wireless data. For perspective, that much data would be equivalent to sending more than 195 million holiday-themed selfies!
"Being able to get in touch with friends and family is an essential part of the holidays," said Doug Burnett, SaskTel Acting President and CEO. "We take great pride in knowing that no matter how our customers choose to make those connections, our advanced networks are there to make it happen."
Although connecting through a smartphone or connected device is coming to be the norm, landline calling remains a popular way for Saskatchewan residents to stay in touch over the holidays. On Christmas Day alone SaskTel expects to see customers on its landline voice network receive close to 177,000 calls, while some 212,000 calls will be made from within the province.
With the largest owner-operated wireless and wireline network in the province, SaskTel is the clear choice for keeping in touch this holiday season.
For more information on maxTV Stream, please visit www.sasktel.com.
About SaskTel
SaskTel is the leading Information and Communications Technology (ICT) provider in Saskatchewan, with over $1.2 billion in annual revenue and approximately 1.35 million customer connections including 610,000 wireless accesses, 345,000 wireline network accesses, 283,000 Internet accesses and 112,000 maxTV subscribers. SaskTel and its wholly-owned subsidiaries offer a wide range of ICT products and services including competitive voice, data and Internet services, wireless data services, maxTV services, data centre services, cloud-based services, security monitoring services, advertising services, and international software and consulting services. SaskTel and its wholly-owned subsidiaries have a workforce of approximately 3,900 full-time equivalent employees (FTEs). Visit SaskTel at www.sasktel.com.
For more information, please contact:
Tim Jones, SaskTel Manager of External Communications
Phone: 306.777.4548
E-mail: timothy.jones@sasktel.com