SaskTel brings maxTV Stream to more rural locations
SaskTel brings maxTV Stream to more rural locations
SaskTel today announced maxTV Stream is now available in 27 more communities including: Balgonie, Canora, Coleville, Elfros, Emerald Park, Esterhazy, Goodeve, Grayson, Kamsack, Keeseekoose First Nation, Kelvington, Kerrobert, Lintlaw, Margo, Melville, Pilot Butte, Rama, Rocanville, Sheho, Springside, Stockholm, Tantallon. Theodore, Veregin, Wadena, White City and Wilkie.
"We are pleased that SaskTel continues to deliver world-class products like maxTV Stream to even more rural communities across our province," said Don Morgan, Minister Responsible for SaskTel. "It's this dedication to serving the residents of our province that's helped SaskTel become the leading communications and entertainment provider in Saskatchewan."
SaskTel's maxTV Stream service is a next-generation entertainment platform that combines the best of traditional television with advanced new features and the latest over-the-top (OTT) content from Netflix and YouTube.
"maxTV Stream has completely transformed television and entertainment in Saskatchewan with its cutting-edge technology and impressive features," said Doug Burnett, President and CEO of SaskTel. "By leveraging our expansive broadband network, now nearly 150 communities have the opportunity to enjoy affordable television service that they can take on the go and watch anywhere in Canada."
Loaded with over 130 channels to choose from and thousands of hours of Video-on-Demand (VOD) content, maxTV Stream raises the bar for television and entertainment with its innovative features, such as:
Restart TV – Restart live TV up to 72 hours in the past so you'll never miss your show again.
maxTV App – Watch live TV and VOD programming on your smartphone or tablet, anywhere in Canada.
Built-in applications – Easily access Netflix, YouTube, and more right from your media box.
State-of-the-art equipment – Control your TV like never before with Bluetooth and voice command technology.
SaskTel maxTV Stream service comes pre-loaded with 55 channels, VOD, and all the features listed above, starting at $19.95/month when bundled with SaskTel Internet service.
For more information on maxTV Stream, please visit www.sasktel.com.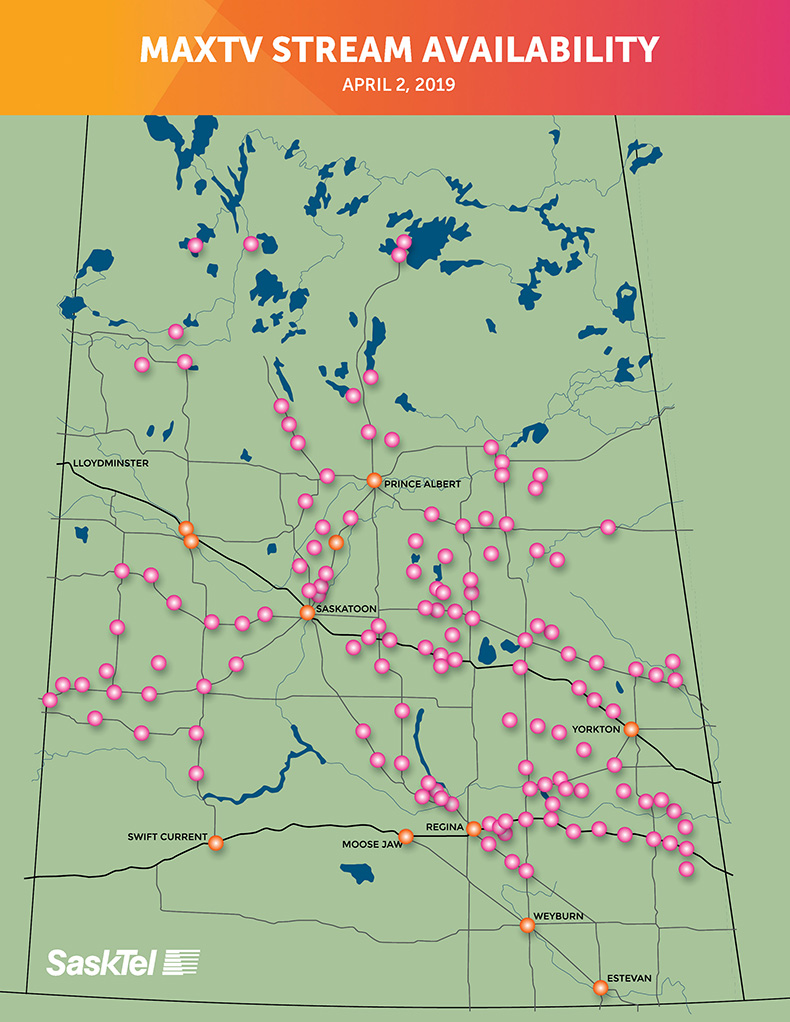 About SaskTel
SaskTel is the leading Information and Communications Technology (ICT) provider in Saskatchewan, with over $1.2 billion in annual revenue and approximately 1.35 million customer connections including 611,000 wireless accesses, 338,000 wireline network accesses, 283,000 Internet accesses and 113,000 maxTV subscribers. SaskTel and its wholly-owned subsidiaries offer a wide range of ICT products and services including competitive voice, data and Internet services, wireless data services, maxTV services, data centre services, cloud-based services, security monitoring services, advertising services, and international software and consulting services. SaskTel and its wholly-owned subsidiaries have a workforce of approximately 3,900 full-time equivalent employees (FTEs). Visit SaskTel at www.sasktel.com.
For more information, please contact:
Greg Jacobs, SaskTel External Communications Manager
Phone: 306.777.3433
E-mail: Greg.Jacobs@sasktel.com