Whitecap Dakota First Nation improves connectivity with launch of SaskTel infiNET service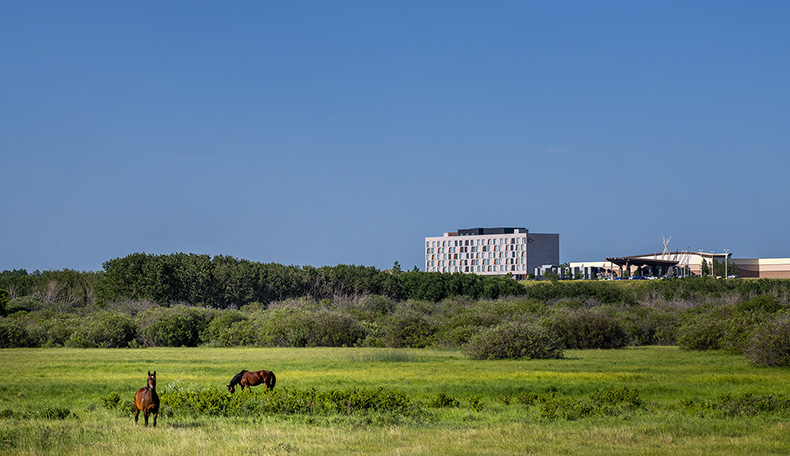 December 3, 2021
Today, Whitecap Dakota First Nation (WDFN) is proud to announce that all households and businesses within the community can now access fibre-optic broadband service with the launch of SaskTel infiNET™ service, following the conclusion of a collaborative project funded by the Government of Canada, and the Government of Saskatchewan.
As a result of this investment, the local primary health centre, band office, business park, public works, as well as over 200 households in the community will be able to receive internet speeds significantly faster than what was previously available.
"I wish to thank Chief Darcy Bear and his council for their leadership and hard work to create this amazing opportunity for their members," said Don Morgan, Minister Responsible for SaskTel. "The ultra-fast internet speeds now available to residents and businesses not only enable improved connectivity but will help the community achieve their goals in terms of competitiveness and relationship building with other First Nations."
Beyond the immediate benefits of faster internet speeds, SaskTel's infiNET network provides WDFN with a platform that can grow to meet the evolving needs for bandwidth well into the future.
"I am pleased to see this historic infrastructure investment, completed in partnership with both the Federal and Provincial governments, in our community," said Whitecap Dakota First Nation Chief Darcy Bear. "As we have all learned with the COVID-19 pandemic, access to quality internet services is essential to our families, our schools, our businesses and future opportunities on reserve."
With the conclusion of this project, WDFN becomes the first Indigenous community within Saskatchewan to be connected to a full fibre-optic broadband network.
"I know the residents of Whitecap Dakota First Nation have been patiently awaiting the arrival of infiNET since our work began last year," said Doug Burnett, SaskTel President and CEO. "SaskTel and our entire team are thrilled that the community can now stay connected using the same leading technology that fuels growth and development in our province's larger centres."
"As we continue our work with other Indigenous communities across the province, the successes from this project will help us apply the best methods possible when improving broadband services in other Indigenous communities throughout the province."
Under the Investing In Canada Infrastructure Program, the Government of Canada contributed $1,136,250 and the Government of Saskatchewan contributed $378,750 toward this more than $1.5 million Whitecap Dakota First Nation Residential and Commercial Internet Services Improvement Project.
About Whitecap Dakota First Nation

Located 26 kilometres south of Saskatoon, the Whitecap Dakota First Nation (WDFN) is a modern and progressive nation with a proud culture and a strong sense of community. Whitecap's members have mandated leadership to implement a nation-building vision geared toward Strengthening Community and Building Opportunity.  With a long history of establishing partnerships, WDFN continues a Spirit of Alliance, working with its neighbours and governments in support of its nation-building agenda.
Today, Whitecap Dakota has approximately 600 members, many which live within the community. As we continue to act on the community's vision, we use accountable leadership and transparent governance practices to attract external investment. To date, Whitecap has been successful in attracting over $160 million in capital investment in economic development and tourism.
As WDFN moves forward, we continue to build partnerships as it reinforces its values and traditions of the past. Today, our partnerships with various organizations and local, provincial, and federal governments are a testament to the lasting legacy of this Spirit of Alliance.
For media inquiries, please contact:
Jackie Pilon
Chief Strategy Officer
Phone: 306-230-2337
Email: jpilon@whitecapdakota.com