Applications open for the 2023 SaskTel Indigenous Youth Awards of Excellence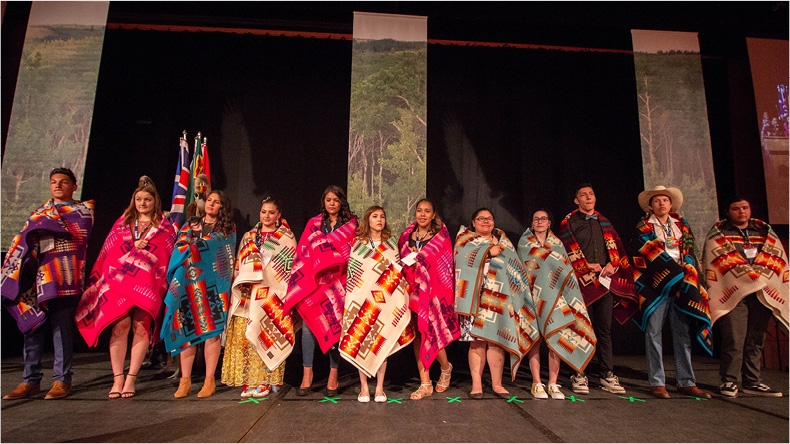 April 24, 2023
SaskTel is accepting applications for the 2023 SaskTel Indigenous Youth Awards of Excellence. First established in 1997 as a partnership between SaskTel and the Wicihitowin Foundation, the SaskTel Indigenous Youth Awards of Excellence celebrate outstanding achievements of young Indigenous people across Saskatchewan.
"For over 20 years, SaskTel has been proud to acknowledge and celebrate the achievements of some truly amazing young Indigenous people as they prepare themselves to become the leaders of tomorrow," said Doug Burnett, SaskTel President and CEO.
The awards recognize youth achievement in five categories:
Outstanding Academic Achievement
Leadership
Culture & Community
Sports/Recreation
Arts and Science
To be eligible for an award, participants must be of First Nations, Metis, or Inuit ancestry. Participants must also be between the ages of 14 and 18 (by December 31, 2023) and able to demonstrate outstanding commitment and/or ability in one of the award categories.
To apply for an award, or nominate a deserving young Indigenous person, please submit your application on SaskTel's website at the link below. All applications must be received by May 7, 2023.
SaskTel Indigenous Youth Awards - https://www.sasktel.com/about-us/corporate-social-responsibility/indigenous-youth-awards-of-excellence-site
The 2023 SaskTel Indigenous Youth Awards will be held in Regina on June 16th.
About SaskTel
SaskTel is the leading Information and Communications Technology (ICT) provider in Saskatchewan, with approximately $1.3 billion in annual revenue and over 1.4 million customer connections including more than 647,000 wireless accesses, 273,000 wireline network accesses, 293,000 internet and data accesses, 110,000 maxTV service subscribers, and 78,000 security monitoring customers. SaskTel and its wholly-owned subsidiaries offer a wide range of ICT products and services including competitive voice, data and Internet services, wireless data services, maxTV services, data centre services, cloud-based services, security monitoring services, advertising services, and international software and consulting services. SaskTel and its wholly-owned subsidiaries have a workforce of approximately 3,300 full-time equivalent employees (FTEs). Visit SaskTel at www.sasktel.com.