SaskTel setting a new standard for connectivity across rural Saskatchewan as it accelerates deployment of its 5G network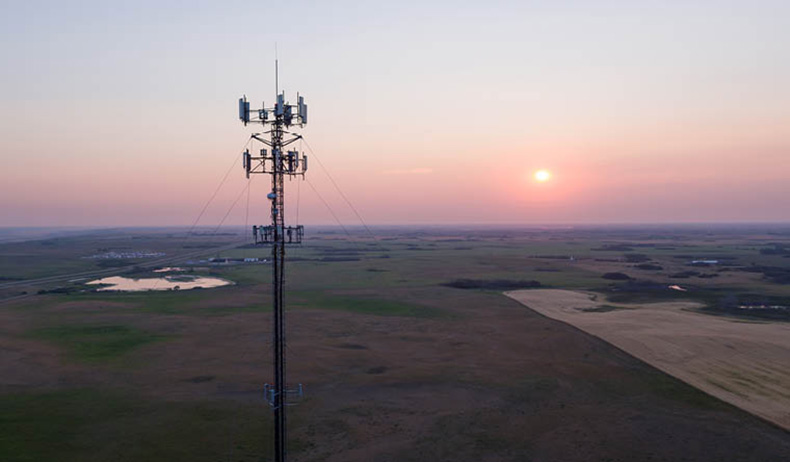 July 19, 2023
Today, SaskTel announced that in recent months it has expanded its 5G network to more than 50 cell sites serving rural, resort, and First Nations communities as well as several major highways – see table below for full list. Delivering hyper-fast data speeds, SaskTel's 5G network is bringing a new level of connectivity to residents and businesses throughout Saskatchewan.
"Our government recognizes how important it is for the people of Saskatchewan to have access to fast and reliable wireless connectivity," said Don Morgan, Minister Responsible for SaskTel. "As SaskTel continues to make strong progress with their 5G expansion program, I am pleased to know that thousands of families across our province can take advantage of the tremendous opportunities and benefits made possible by this exciting new technology."
Currently, SaskTel's 5G network can deliver data speeds of up to 1.2 Gigabits per second (Gbps), and as it matures the network will provide significantly faster speeds. Other future benefits of 5G will include massive network capacity and ultra-low latency, all of which will enable new use cases for emerging wireless technologies that will be the foundation that next-generation innovations will be built upon.
"As Saskatchewan's homegrown communications leader, we are firmly committed to delivering cutting-edge communications technologies and solutions to all of our customers, regardless of address," said Chad Olson, SaskTel Chief Technology Officer. "This year, we will invest approximately $160 million to accelerate the rollout of our 5G network. On the strength of this record setting investment, we expect to deploy 5G on approximately 260 cell sites across Saskatchewan."
SaskTel's rollout of 5G will revolutionize connectivity across the province, especially in rural areas. Delivering incredible data speeds, 5G will help bridge the digital divide by providing residents with the capability to connect to the world faster than ever before. 5G will also support technological advancements in remote healthcare, online learning, agriculture, transportation, as well as other services and industries that are important to the economic prosperity and overall quality of life in rural Saskatchewan.
The continued expansion of its 5G and fibre networks are a direct result of SaskTel's commitment to invest more than $1.6 billion of capital across Saskatchewan over the next five years. These investments will ensure Saskatchewan remains one of the most well-connected regions in the country.
In order to connect to its 5G network, SaskTel customers need to be within a 5G coverage area, have a 5G capable device that is certified for use on the SaskTel 5G network, and subscribe to a 5G compatible wireless plan.
For more information about SaskTel's 5G network, visit www.sasktel.com/5g.
About SaskTel
SaskTel is the leading Information and Communications Technology (ICT) provider in Saskatchewan, with approximately $1.3 billion in annual revenue and over 1.4 million customer connections including more than 647,000 wireless accesses, 273,000 wireline network accesses, 293,000 internet and data accesses, 110,000 maxTV service subscribers, and 78,000 security monitoring customers. SaskTel and its wholly-owned subsidiaries offer a wide range of ICT products and services including competitive voice, data and Internet services, wireless data services, maxTV services, data centre services, cloud-based services, security monitoring services, advertising services, and international software and consulting services. SaskTel and its wholly-owned subsidiaries have a workforce of approximately 3,300 full-time equivalent employees (FTEs). Visit SaskTel at www.sasktel.com.
5G RURAL EXPANSION LOCATIONS – JULY 2023
Alsask
Greenstreet (East)
Webb (South)
Assiniboia (Northeast)
Hafford
Witchekan Lake First Nation
Aylesbury
Hanley
Yellow Grass
Belle Plaine (North)
Herbert
Highway 1
(East of intersection w/ Hwy 614)
Big River First Nation
Kenaston
Highway 1
(Northeast of Maple Creek)
Bladworth
Kronau
Highway 2
(South of La Ronge)
Blaine Lake
Lake Alma
Highway 4
(North of Cando)
Blewett
Langham
Highway 10
(West of Melville)
Bruno
Lestock (North)
Highway 11
(North of Dundurn)
Canwood
Little Black Bear First Nation
Highway 11
(Northeast of Duck Lake)
Chamberlain (South)
Lumsden No. 189
Zehner Rd & Ravenswood Rd
Highway 11
(South of Macdowall)
Chaplin
Maidstone
Highway 16
(Southeast of Borden)
Choiceland
Norquay (North)
Highway 36
(South of Willow Bunch)
Dalmeny
Oxbow (South)
Highway 43
(West of Gravelbourg)
Deer Valley
Pasqua (Northwest)
Highway 378
(Northeast of Rabbit Lake)
Dundurn
Radisson
Highway 734
(West of Condie Nature Refuge)
Emma Lake – Murray Point
Regina Beach
Highway 735
(West of Moose Jaw)
Ernfold (East)
Rush Lake (Northwest)
Findlater
Spy Hill
Fort Qu'Appelle (North)
Tompkins (Northeast)