SaskTel announces 48 additional communities set to receive infiNET service as part of its $200 million Rural Fibre Initiative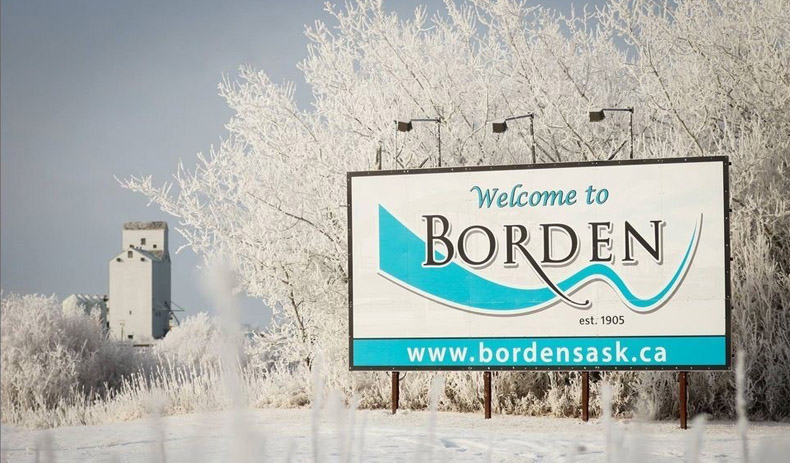 March 8, 2023
Photo courtesy of Tara Burletoff
Today SaskTel announced the 48 communities it plans to bring SaskTel infiNET™ service to as part of the sixth phase of its $200 million Rural Fibre Initiative – see list below for full details. SaskTel currently plans to begin the construction process for Phase 6 in 2023/24 and anticipates all communities included in the Rural Fibre Initiative will be fibre-ready by the end of March 2025.
"A key part of our government's plan to build a stronger Saskatchewan is to invest the infrastructure that will allow our province to continue to grow and prosper," said Don Morgan, Minister Responsible for SaskTel. "Through the Rural Fibre Initiative, SaskTel is expanding their advanced fibre optic broadband network to towns and villages across Saskatchewan, and ensuring more families and businesses have access to the same online resources, tools, and opportunities as those living in larger urban centres."
"Delivering speeds of up to a Gigabit per second, our infiNET network ensures SaskTel customers have the bandwidth they need to surf, stream, and connect in real-time," said Doug Burnett, SaskTel President and CEO. "In addition, by upgrading our broadband networks to fibre, we will be better able to deploy future enhancements to keep pace with our customer's evolving bandwidth needs, especially as smart technologies become more common in both the home and workplace."
"This important investment from SaskTel will put smaller communities like the Village of Borden on a level playing field in terms of accessing reliable advanced fibre optic broadband technology. This new infrastructure will help us attract new businesses and residents to Borden and help those already living and working in Borden to expand their earning and learning potential. This is a great day for the Village of Borden and all of Saskatchewan. Thank you SaskTel and the Government of Saskatchewan," said Jamie Brandrick, Mayor of the Village of Borden.
The Rural Fibre Initiative is a multi-phase program that will see SaskTel invest $200 million to bring infiNET service to over 110,000 residents and businesses living and operating in more than 130 rural communities. Once the announced phases of the Rural Fibre Initiative are complete, SaskTel's infiNET network, which is already Saskatchewan's largest fibre optic broadband network, will reach approximately 80% of all households in the province.
The continued expansion of its infiNET and 5G networks is a direct result of SaskTel's commitment to invest more than $1.5 billion of capital across Saskatchewan over the next five years. These investments will help Saskatchewan accelerate its transition to becoming a smart province and ensure it remains one of the most well connected regions in the country.
For more information about infiNET service, please visit www.sasktel.com/infinet.
About SaskTel
SaskTel is the leading Information and Communications Technology (ICT) provider in Saskatchewan, with approximately $1.3 billion in annual revenue and over 1.4 million customer connections including more than 647,000 wireless accesses, 273,000 wireline network accesses, 293,000 internet and data accesses, 110,000 maxTV service subscribers, and 78,000 security monitoring customers. SaskTel and its wholly-owned subsidiaries offer a wide range of ICT products and services including competitive voice, data and Internet services, wireless data services, maxTV services, data centre services, cloud-based services, security monitoring services, advertising services, and international software and consulting services. SaskTel and its wholly-owned subsidiaries have a workforce of approximately 3,300 full-time equivalent employees (FTEs). Visit SaskTel at www.sasktel.com.
Rural Fibre Initiative – Community List
Phase 1
Balgonie*
Biggar*
Langham*
Pilot Butte*
Phase 2
Kindersley*
Meadow Lake+
Rosetown+
Phase 3
Canora+
Carlyle+
Esterhazy+
Fort Qu'Appelle+
Hudson Bay+
Indian Head+
Kamsack+
La Ronge+^
Lumsden+
Maple Creek+
Moosomin+
Shaunavon
Watrous
Wynyard+
Construction process expected to begin in 2022/23
^Including Air Ronge and Kitsaki #156B
Phase 4
Assiniboia
Buffalo Narrows
Caronport
Carrot River
Dalmeny
Davidson
Dundurn
Foam Lake
Gravelbourg
Gull Lake
Île-à-la-Crosse
Kipling
La Locheα
Lanigan
Macklin
Osler
Outlook
Oxbow
Preeceville
Regina Beach^
Rocanville
Shellbrook
Unity
Wadena
Construction process expected to begin in 2023/24
^Including Buena Vista and Kinookimaw
αIncluding Clearwater River
Phase 5
Aberdeen
Balcarres
Beauval
Big River
Carnduff
Churchbridge
Cudworth
Delisle
Eston
Grand Coulee
Grenfell
Hague
Hepburn
Herbert
Ituna
Kelvington
Kerrobert
Langenburg
Lashburn
Leader
Maidstone
Milestone
Pense
Pinehouse
Porcupine Plain
Radville
Southey
Spiritwood
Stoughton
Strasbourg
Waldheim
Watson
Wilkie
Wolseley
Construction process expected to begin in 2023/24
Phase 6
Allan
Arcola
Asquith
Avonlea
Bethune
Blaine Lake
Borden
Bruno
Cabri
Central Butte
Clavet
Colonsay
Craik
Cupar
Cut Knife
Duck Lake
Eastend
Eatonia
Edam
Elrose
Hafford
Hanley
Kenosee Lake
Kyle
Lampman
Leroy
Manitou Beach
Marshall
McLean
Muenster
Naicam
Nokomis
Norquay
Paradise Hill
Pierceland
Ponteix
Qu'Appelle
Radisson
Raymore
Rouleau
Springside
St. Walburg
Sturgis
Turtleford
Vanscoy
Vibank
Vonda
Yellow Grass
Construction process expected to begin in 2023/24
*Construction is over 95% complete
+Construction has begun