SaskTel brings 5G connectivity to the City of Saskatoon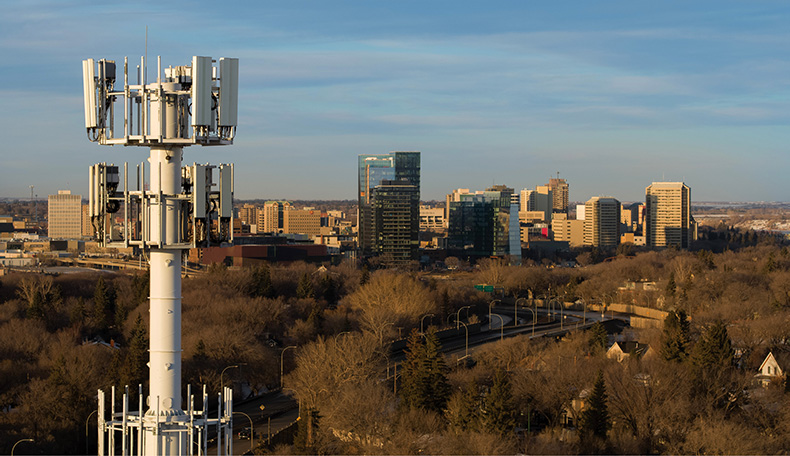 March 10, 2022
Today, SaskTel announced that it is setting a new standard for connectivity in Saskatchewan's largest urban centre as it begins the rollout of its 5G wireless network in the City of Saskatoon. SaskTel has also expanded its 5G network to 15 additional towers in the City of Regina, including the downtown business district. SaskTel plans to expand its 5G network to cover the majority of Regina and Saskatoon by the end of the year.
"As a life-long resident of Saskatoon, I'm extremely pleased that SaskTel has begun to offer 5G service in the bridge city," said Don Morgan, Minister Responsible for SaskTel. "The substantial investments SaskTel is making in order to bring 5G connectivity to Saskatoon and Saskatchewan will ensure that our residents and businesses continue to have access to the cutting-edge technologies and tools they need to compete and thrive in the digital world."
"Today's announcement is an important step forward as we strive to bring 5G service to our customers throughout the province," said Doug Burnett, SaskTel President and CEO. "Combining unparalleled wireless data speeds with incredible network capacity and near real-time connections, our 5G network raises the standard for connectivity and paves the way for exciting technological innovations that will transform the way we connect to the world around us."
Powered by Samsung, SaskTel's 5G network delivers hyper-fast data speeds of up to 1.2 Gigabits per second (Gbps) allowing customers to connect faster than ever before. Future benefits of the 5G network once fully deployed will include incredible capacity and ultra-low latency, enabling new use cases for wireless technology that will be the foundation that next-generation innovations will be built upon.
Advancements in agri-tech, smart cities, virtual healthcare, Internet of Things (IoT) solutions, self-driving cars, and virtual reality will be made possible by 5G. According to a recent report from PricewaterhouseCoopers LLP Canada, these innovations, along with many others, could help to increase Western Canadian GDP by $34 billion annually by 2035*.
"We at the Saskatchewan Chamber understand how critical advanced communications technologies are to the overall success of businesses throughout the province and we are pleased that SaskTel is making the necessary investments needed to bring 5G connectivity to the province," said Elissa Laliberte, Saskatchewan Chamber of Commerce Acting CEO. "As the world transitions to a post-COVID era, it will be vital for Saskatchewan businesses across all sectors to stimulate growth and enhance their operations through the adoption of new technologies and digital tools so that they can continue to succeed at the local, national, and international level."
SaskTel's launch and expansion of 5G is a direct result of its commitment to invest more than $1.4 billion of capital across Saskatchewan over the next five years. These investments will ensure SaskTel customers continue to have access to some of the best communication and entertainment services in the world.
In order to connect to its 5G network, SaskTel customers will need to be within a 5G coverage area, have a 5G capable device that is certified for use on the SaskTel 5G network and subscribe to a 5G compatible wireless plan. For more information, please visit www.sasktel.com/5g.
SaskTel is the leading Information and Communications Technology (ICT) provider in Saskatchewan, with over $1.3 billion in annual revenue and approximately 1.4 million customer connections including 639,000 wireless accesses, 289,000 wireline network accesses, 289,000 internet accesses, 114,000 maxTV subscribers, and 81,000 security monitoring customers. SaskTel and its wholly-owned subsidiaries offer a wide range of ICT products and services including competitive voice, data and Internet services, wireless data services, maxTV services, data centre services, cloud-based services, security monitoring services, advertising services, and international software and consulting services. SaskTel and its wholly-owned subsidiaries have a workforce of approximately 3,400 full-time equivalent employees (FTEs). Visit SaskTel at www.sasktel.com.
*Source: PricewaterhouseCoopers LLP Canada, The importance of 5G and the digital economy in Western Canada