Make life easier with SaskTel eBILL
Save trees with SaskTel eBILL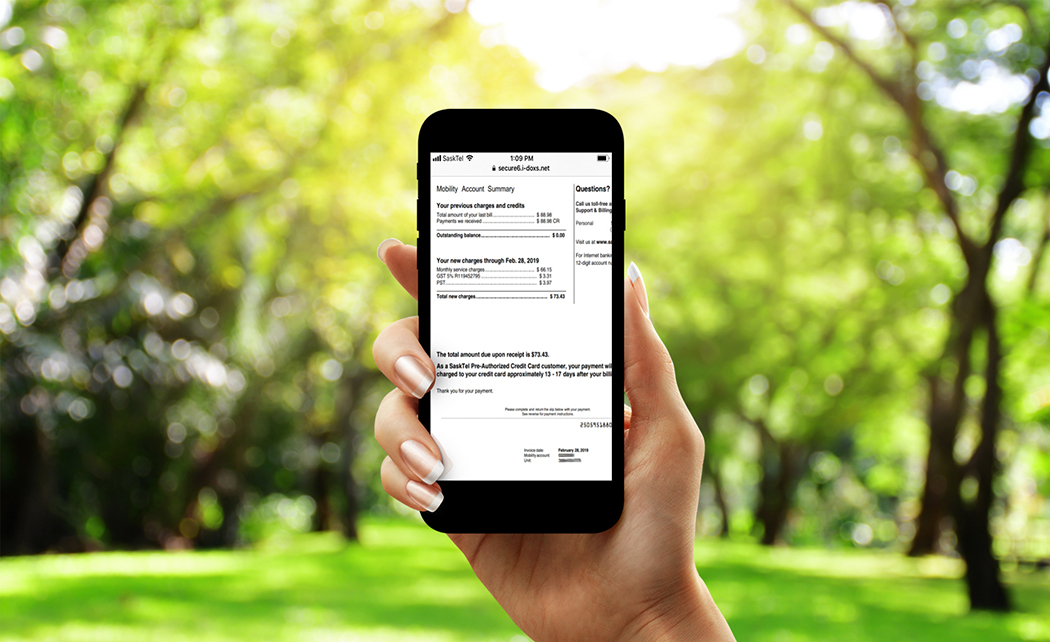 Make the switch! eBILL is available through mySASKTEL.
Sign up
Paperless billing is also available through SaskPower and SaskEnergy.
Save trees with eBILL
Managing your bills online is good for the environment, and convenient for you.
With eBILL you can:
Make secure, online payments
See the last 18 months of bills
Download or print your bill
It's easy and free to use!
You'll get a monthly email when your eBILL is ready. To see your eBILL, sign up for a mySASKTEL profile. You'll need your account number and one of the following: your last billed amount, personal ID on file, or SaskTel wireless phone number.
Once you sign up, you're also automatically signed up for eBILL paperless billing. And, with mySASKTEL you can also quickly and easily manage your services online.
Let's make Saskatchewan greener
eBILL paperless billing helps reduce waste, resource use, and the carbon footprint in our communities.

We're committed to a clean, green Saskatchewan. We've been named one of Canada's Greenest Employers for the past 10 years.
Using eBILL is a small act with a big impact on tomorrow's environment as we look to reduce the over 36 million pieces of paper used to send customer bills every year. That's 2,300 trees!
Ways to pay
There are many ways to pay your SaskTel bill. You can pay by credit card when you view your eBILL in mySASKTEL. Or, you can pay with one of our other options like online banking or pre-authorized payment. Learn more
Business customers
Are you a medium or large business customer? Contact your SaskTel Representative or call 1.844.SASKTEL (1.844.727.5835) to discuss your online billing options.
eBILL is available to all our customers, except for nationally-billed wireless customers through Mobility Canada. You must have an account number and at least one phone or unit number for each account on eBILL.