Carmichael Outreach continues to support vulnerable Regina community members with help from SaskTel TelCare donation
Carmichael Outreach continues to support vulnerable Regina community members with help from SaskTel TelCare donation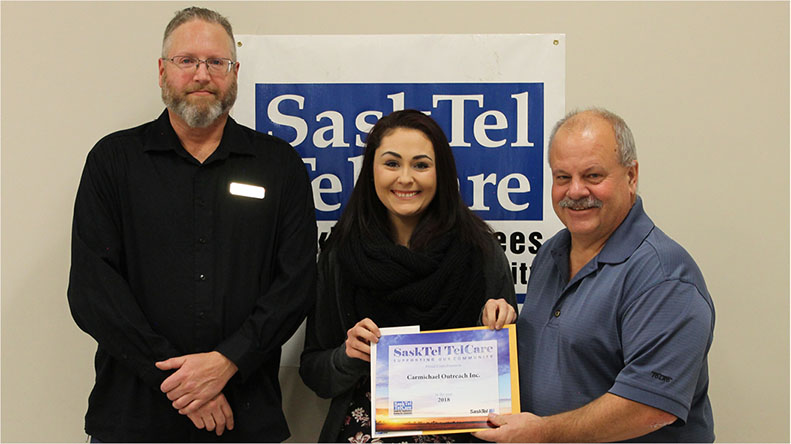 Regina's Carmichael Outreach is one of more than 75 SaskTel 2018 TelCare recipients.
The charity, which provides programs and supports for vulnerable and homeless individuals in the Regina area, is pleased to use the funds to continue its Group Therapy and Life Skills Class for people with cognitive disabilities.
"We are so thankful to be able to offer this class again. We rely on passionate partners in the community, like the SaskTel TelCare program, to help us make a difference," said Rochelle Berenyi, Communications, Advocacy and Projects Officer at Carmichael.
The organization also received a 2017 TelCare donation, allowing Carmichael to pilot the program earlier this year.
Thanks to SaskTel's employee-driven charitable donation program, Carmichael can continue to work with some of the Regina community's most complex members to help rebuild self-esteem and self-worth.
Over a four-month period, about a dozen program participants worked toward personal goals by learning a variety of basic life skills including: problem solving, trust and friendship, budgeting, healthy food preparation and employment skills.
Doreen Lloyd, class instructor and housing coordinator at Carmichael, conceptualized the program 20 years ago.
She has offered it to clients in-need at several non-profit organizations, with continued success, throughout her 32-year career as a social worker.
"A lot of these folks isolate themselves in the community, but this class allowed them to feel a sense of belonging," said Doreen, adding that many people who take the class live with the effects of trauma, abuse and addiction.
Although this was the first year the class took place at Carmichael, Doreen said she is passionate about someday seeing the program continue full-time.
"I still see some of the students from two decades ago and they're doing really great. They have healthy relationships and children. But, the key thing is they figured out what was creating issues in their lives, and they've moved past that. That's why this program is important," Doreen said.
As recognized through the Life Skills class, Carmichael's focus is to help the community through programming and support, which is one of the reasons SaskTel's Regina employees chose the organization as one of their TelCare recipients this year.
Through 2018, SaskTel employees raised over $172,000 for TelCare; with the company making a top-up pledge to bring that total to more than $259,000.
"These days, it's becoming harder and harder for charities to find adequate funding. But, because of donations from across the province, organizations like Carmichael can continue to help vulnerable community members to thrive," said Darrell Liebrecht, SaskTel's manager for overseeing the TelCare program
To see a full listing of this year's TelCare recipient organizations by district, please see SaskTel's 2018 TelCare Allocations news release.
About SaskTel TelCare
SaskTel's TelCare was founded in 1950 by a group of employees who shared the belief that together they could help to improve the lives of those in need. Today, the employee benevolent fund supports numerous registered charities in Saskatchewan through the generous support of SaskTel employees. Thanks to SaskTel's commitment to provide a top up donation of $0.50 for every $1 donated by its employees, the positive impact of their generosity can be felt in every corner of the province.
About community stories

We volunteer, give time and money to great causes, and we partner with caring and visionary Saskatchewan organizations. Check out the latest news in our community stories.
Read more
Categories