SaskTel's Supported Employee Program Champions an Inclusive Workforce
SaskTel's Supported Employee Program Champions an Inclusive Workforce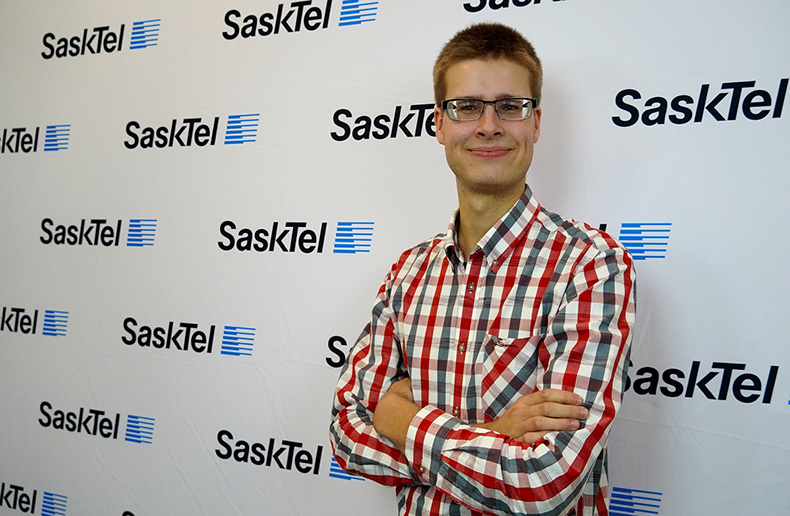 October is Disability Employment Awareness Month (DEAM), and SaskTel is proud to highlight its Supported Employee Program and the immense value of having an inclusive workforce.
Currently, SaskTel has 16 active supported employees and Carter Carles is the newest addition to the program.
"The intent of SaskTel's Supported Employee Program is to engage individuals with disabilities, specifically with cognitive disabilities in long term, meaningful employment," said Sharon Davis, SaskTel Human Resources Director. "The program plays an important role in supporting a diverse and inclusive workplace and we are proud to welcome Carter to the team."
Last year Greg Jacobs, SaskTel Corporate Communications Manager, received a call from Carter who was asking about potential internet upgrades in his rural community of Ceylon – located approximately 75 kilometers southwest of Weyburn. Being one of SaskTel's primary spokespeople, it's not unusual for Greg to receive calls from reporters or residents of the province inquiring about a wide array of topics. However, this call was unlike any Greg had received before – not only was Carter extremely inquisitive, but he also had significantly more knowledge about telecommunications than the standard callers Greg is used to speaking with.
"I was blown away by how much Carter knew about telecommunications, especially given how young he sounded on the phone," said Greg. "Shortly after speaking with Carter, the principal of his high school contacted me to ask if SaskTel had any employment opportunities for the young man. It was at that point that I learned Carter had some sort of cognitive challenge that could prevent him from gaining the formal education required to pursue a career in the telecommunications industry."
Intent on the potential he saw in Carter, Greg reached out to Sharon and she was able to arrange for him to join SaskTel's Supported Employee Program working with Regina's Customer Services Operations Team this past May.
To determine the right department fit, Managers are invited to consider how employees' specific skill sets and abilities may be applied to their work environments.
"I looked for an opportunity for Carter for about a year and finally carved a job for him in Operations," Sharon said. "Carter is doing really well so far and was recently extended in his role for a year.
From the get-go Carter was eager to learn and help others.
"I've always wanted to understand how to make rural internet better where I'm from, so I am really enjoying everything I'm learning so far," said Carter. "I basically learned everything I knew about telecommunications from YouTube videos, so it's great to have hands-on experience here."
Donny Reddekop is Carter's job coach. A job coach is provided for supported employees through the program's partnership with the Saskatchewan Abilities Council to help the employee transition into their position for as long as necessary.
Although Carter cannot read, Donny describes his ability to recall verbal information as "exceptional."
"We've had the opportunity to take a couple training courses together so I can support Carter with any written material," said Donny. "If we've gone over something once, it's likely that he has memorized it. I have had two instructors approach me afterwards and talk about how impressed they were with Carter's oral exam results."
To help with written communication Carter uses adaptive technology that allows him to turn text to speech and speech to text.
With the right tools in place to help him succeed, Carter is already recognized as an asset to his team.
"Carter has brought a spirit of excitement and eagerness to our department in Regina," said Des Leavens, Customer Service Operations Manager. "He has a drive to learn and asks many great questions. He has also given us an extra set of hands that allow us to take on many different important tasks and jobs that sometimes fall to the back burner."
For more information about DEAM please visit https://www.saskabilities.ca/news/october-is-disability-employment-awareness-month-2/
About community stories

We volunteer, give time and money to great causes, and we partner with caring and visionary Saskatchewan organizations. Check out the latest news in our community stories.
Read more
Categories