A Royal Recognition
A Royal Recognition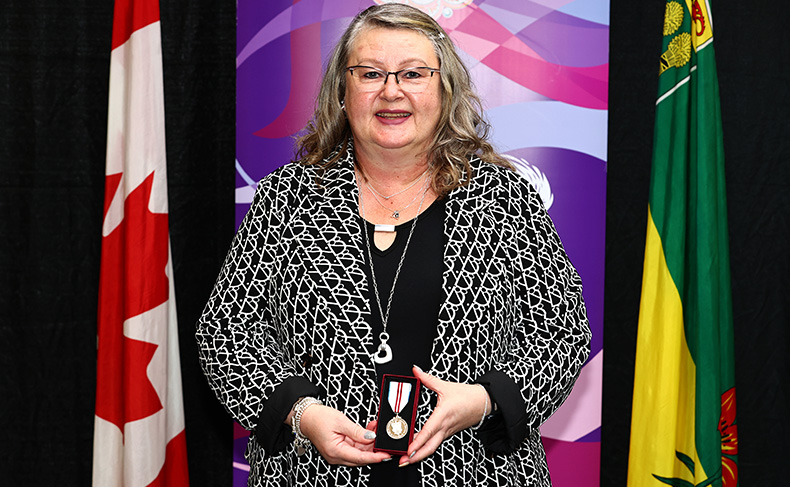 Bonny Stevenson, an Executive Administrator with SaskTel Customer Services (Sales & Operations), received the Queen Elizabeth II's Platinum Jubilee Medal (Saskatchewan) in recognition of her significant achievements and community involvement.
Every day, SaskTel employees make meaningful impacts in the lives of Saskatchewan people and communities as part of a strong, province-wide workforce of over 3,000 employees. Outside of working hours, however, you can find many of our employees volunteering their time selflessly for a wide variety of causes and activities.
In January 2023, fourteen very deserving SaskTel employees were presented with the Queen Elizabeth II's Platinum Jubilee Medal (Saskatchewan) in recognition of their significant achievements and community involvement. The medal was created to mark the 70th anniversary of Her Majesty Queen Elizabeth II's accession to the Throne, as well to provide the Province of Saskatchewan a way to honour deserving individuals who embody and demonstrate the ideals of community service.
Bonny Stevenson, an Executive Administrator with SaskTel Customer Services (Sales & Operations), was one recipient. Bonny donates her time generously as a volunteer director for the SaskTel Pioneers and as President of MADD Saskatoon (MADD Canada) and was nominated for the award by fellow employees who continue to be inspired by her naturally giving spirit.
"Volunteering has always been important to me," said Bonny. "I grew up in rural Saskatchewan where volunteering wasn't an option, you just did it. It is always nice to be recognized but no volunteer ever steps up hoping to be recognized. Without a doubt though, it is a great honour and a humbling recognition especially when it comes from your peers."
Her involvement with MADD Canada began soon after losing her 17-year-old son Quinn in 2013 to an impaired driver. In the ensuing years, she has connected with hundreds of students and families throughout the province and has led important and inspiring conversations on the topic of impaired driving. The difficult and life-changing experience continues to guide her work to raise awareness on the issue.
She added: "My husband and I really want to make sure everyone knows that Quinn's life was important. Death by impaired driver is not an accident, but a choice you make to get behind the wheel. We hope that when people hear Quinn's name, they associate it with the message of always planning a safe ride home before you leave the house."
Reflecting on what has been most memorable about her involvement with the SaskTel Pioneers (Bridge City), she points to the opportunities it has provided to better connect with and support initiatives that make community life brighter.
"One of the Bridge City projects I work on is Families to the Forest. Sponsored by SaskTel and the Pioneers, community schools are invited to fill a bus and we take them through the BHP Enchanted Forest in Saskatoon. It is an amazing project and one I'm very proud to be a part of."
All SaskTel employees are able to take advantage of volunteer opportunities through the SaskTel Pioneers, SaskTel EnviroCare, and other employee groups. In forging stronger community relations beyond workplace boundaries, employee volunteers also benefit in other ways such as improved well-being and social connections.
"We are tremendously thankful to have such committed employees intent on making a positive impact in the community," said Jodine Smith, SaskTel Communications Manager. "We want employees to feel that they can grow outside of their careers and bring their volunteerism to life."
About community stories

We volunteer, give time and money to great causes, and we partner with caring and visionary Saskatchewan organizations. Check out the latest news in our community stories.
Read more
Categories