Buddying Up
Buddying Up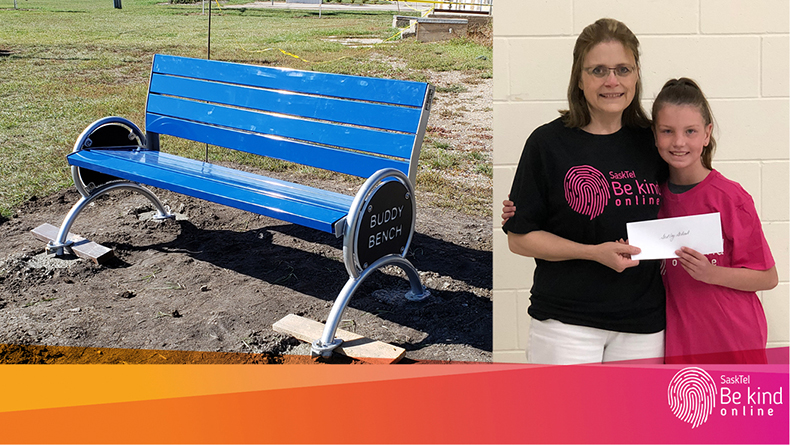 At Sedley School, students have discovered the power of kindness and they believe it deserves to be spread far and wide.
And though the hallways of Sedley School clearly show a culture of kindness, there was one place where grade 6 student Aleeya Deck believed still needed a special touch: the playground.
While many students get to build relationships in the classroom, Aleeya noticed that there wasn't as many chances for students from different grades to get to know one another. As a member of the school's Student Leadership Council (SLC) she tries to get kids involved in school activities but felt that something permanent outside would help to create a safe and happy place for kids during recess.
"I think we've all had or know someone who's having a tough day and needs someone to talk to," said Aleeya. "I want all kids to feel cared about, including kids who may have just moved here. I heard about other schools getting buddy benches and thought it was a great way to make sure no one ever feels lonely."
This past spring, she decided to put in an application to Be Kind Online asking for funds so that the school could buy a "buddy bench" for their newly renovated playground. To her surprise, Aleeya's application was selected and she was presented with a $1,000 cheque at a school assembly in April to help make it happen.
The money was put towards the school's first buddy bench as well as a school-wide BBQ and activity. In late October, the school celebrated the unveiling of their bench, and SaskTel Be Kind Online was ecstatic to help them mark their achievement.
"We are just thrilled to support Sedley School and their efforts to promote kindness on the playground," said Jennifer McLeod, SaskTel HR Manager – CSR, Diversity and Organizational Design. "The buddy bench is one of those projects that goes a long way toward creating the strong sense of community that I think any school requires."
Work is ongoing to put the finishing touches on landscaping around the playground which will ensure the bench is a welcoming place for students to sit for years to come. But, for the school of 110 kids, Aleeya is already seeing how the bench is making a difference:
"The other day I saw a girl who was sad because she had nobody to play with her. I saw her sitting on the bench and went up to her and asked her to play with me."
From all accounts, the Sedley School buddy bench is a great success. Sedley students are now putting the lessons they've learned about kindness into action when they see someone sitting by themselves.
"Buddy benches provide such a boost for everyone," Jennifer added. "Not just for students who seek companionship or who may be going through a difficult time, but also for the students who know they've done the right thing by showing others they're never alone."
Whether it's a big act of kindness or small everyday acts, there is something everyone can do to encourage compassion and kindness in our communities.
To learn more about SaskTel's Be Kind Online initiative, visit www.bekindonline.com.
About community stories

We volunteer, give time and money to great causes, and we partner with caring and visionary Saskatchewan organizations. Check out the latest news in our community stories.
Read more
Categories