Harkirat Bhullar's Buddy Project is all about the importance of acceptance in school
Harkirat Bhullar's Buddy Project is all about the importance of acceptance in school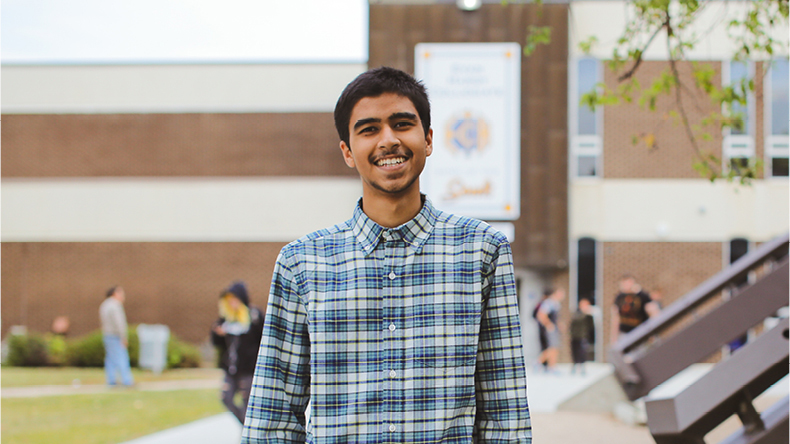 Powered by friendship and high-fives, the Buddy Project at Evan Hardy Collegiate Institute is helping students see diversity as their collective strength.
Selected as one of 2017's I Am Stronger Community Grant recipients, the project is the brainchild of Harkirat Bhullar, a grade 11 student who has already built a reputation in the community for his leadership and bullying prevention efforts.
Harkirat has never been one to shy away from difficult subjects, including the challenges faced by many young Canadian newcomers when settling into their new life. Last year, inspired by his own experience of adjusting to life in Canada, Harkirat approached his school with the idea for the Buddy Project, an initiative that pairs established students with young Canadian newcomers and refugees.
"Our school welcomes students from more than 25 different cultures," said Harkirat. "By welcoming our new buddies and forging long-lasting relationships through group and personal activities, we hope they can become more confident in their interactions both in and outside of school."
The Buddy Project is helping young newcomers with the transition to their new life by providing a supporting environment and, most of all, friendship. Buddy Project members spend time helping each other with homework, going out for lunch, or pursuing volunteer work in the community. In addition to giving these new students a trusted person to talk with to share their experience, it also helps them build a strong personal connection to their school.
The project complements the work of Evan Hardy's Soul Ambassadors club, a group of students that work together to support school and community events. Harkirat, who is also co-director of the Soul Ambassadors, believes the Buddy Project has the potential to truly transform the lives of participants. In its first year, over 40 students signed up to take part in the program.
The I Am Stronger Community Grant has allowed the students to learn more about their community and Canadian culture through fun social excursions, potluck dinners, and a trip to Shekinah Retreat Centre north of Saskatoon. The Buddy Project has also used the funds to purchase educational resources for use at their meetings.
The Buddy Project is showing young newcomers that they can also use their voice to make a positive difference in the community. Although the program is only in its second year, plans are already underway for more group activities over the coming months.
"The grant has allowed me to reciprocate the kind of support I once received as a newcomer," said Harkirat. "In addition, it has given me the opportunity to do things that I felt were lacking in my experience."
The program's message of respect, kindness and compassion is resonating with others, including everyone here at SaskTel. Lyndsey Pankratz, SaskTel's I Am Stronger program coordinator, is confident that Harkirat's efforts and leadership are making a difference in the community.
"Harkirat is a true leader and his dedication to embracing and welcoming others into the school is nothing short of inspiring," said Lyndsey. "Initiatives like the Buddy Project are a perfect example of the positive programming and ideas the I Am Stronger grants support."
Over the past two years, Harkirat has received local and international recognition for his outstanding volunteer work and efforts to advocate on behalf of newcomers as well as youth with Autism. Earlier this year, he received a Duke of Edinburgh International Award in recognition of his efforts. He was also the winner of a "Do The Duke in the UK" competition that brought him to the United Kingdom for a week to hike through the moors of Yorkshire and learn about different cultures alongside other exceptional youth.
If you have an idea for a bullying prevention initiative, visit iamstronger.ca for details on how to apply.
About I Am Stronger Community Grant Program:
At SaskTel, a key goal is being active member of the communities it serves. Established in 2013, I Am Stronger is the company's year-round bullying prevention campaign which focuses on empowering Saskatchewan youth to make a difference in their schools and communities. Offered in partnership with the Ministry of Education, the Community Grant program has provided over $45,000 to Saskatchewan youth to pursue their own initiatives that promote kindness and positive school environments.
About community stories
We volunteer, give time and money to great causes, and we partner with caring and visionary Saskatchewan organizations. Check out the latest news in our community stories.
Read more
Categories