SaskTel Sponsors the Saskatchewan Indian Institute of Technology's (SIIT) Mobile MakerLodge
SaskTel Sponsors the Saskatchewan Indian Institute of Technology's (SIIT) Mobile MakerLodge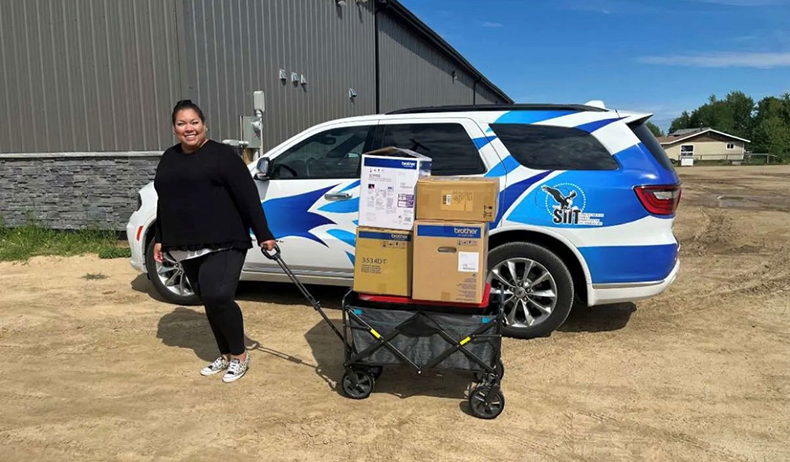 Sponsored in part by SaskTel, the Saskatchewan Indian Institute of Technology's (SIIT) Mobile MakerLodge is designed to increase exposure and access to technology for Indigenous communities across the province.
The program is an outreach extension of SIIT's Saskatoon-based MakerLodge, which is its Indigenous revisioning of a Makerspace (a communal public workshop in which makers can work on small personal projects.) This new initiative was soft launched this past June and is working to offer its programming in 40 Saskatchewan Indigenous communities for the next two academic years – with opportunity for potential renewal.
"Indigenous peoples have always embraced innovation and tradition," said Tia Larocque-Graham, Program Coordinator, Outreach & Engagement with SIIT. "Our goal through the Mobile MakerLodge is to support, educate, and mentor Indigenous people, while cultivating a culture of innovation so that Indigenous people can be part of the dialogue."
Acting as a critical component of SIIT's Innovation ecosystem development, the MakerLodge's focus is on helping to increase students' exposure to innovative technologies through activities like workshops, student showcases, student challenges and work-integrated learning opportunities.
"Our project employs a 'train-the-trainer' approach and seeks out members of the community who can champion the initiative," she said. "These champions can continue to share knowledge with the community while still having access to the support of the MakerLodge team."
Communities can register for one of six themed technology kits, including: Textiles & Tech, Hydroponics, 3D printing, Storytelling, VR/AR development and Manufacturing.
"We believe that by making technology, tools, equipment, and mentorship accessible, it will build confidence in Indigenous learners to pursue or advance careers in trades, STEM, innovation and business development," said Tia.
MakerLodge staff are also fully outfitted to both deliver equipment and train on how to use the technologies.
"When we knew we would be going out to First Nations communities, we realized we would need a vehicle that allowed us to haul a lot of equipment, fit our MakerLodge team, and be reliable in rural conditions," she said. "Our vehicle allows us plenty of space for technology, with the option of adding a trailer later if we need to move larger pieces of technology or larger quantities of supplies."
So far, Tia said the response to the Mobile MakerLodge has been extremely positive.
"Communities have enjoyed learning about new technologies and have been appreciative of the opportunities it creates for them to engage with culture, support community initiatives, preserve cultural teachings, share their talents, be competitive in the workforce, and potentially generate revenue," she said.
SaskTel, SaskPower, SaskEnergy and Prairies Economic Development Canada are the main sponsors of this project.
"We are proud to partner with such a community-minded institution to help improve access to educational opportunities for the Indigenous residents of our province, especially youth," said Lindsay Mazenc, Corporate Communications Manager. "This sponsorship elevates SaskTel's commitment to supporting programs related to information and communications technology, and we are excited to contribute to such a fantastic program."
The Mobile MakerLodge is open to any Indigenous community in Saskatchewan and kits will be offered based on availability.
Communities who are interested can contact MakerLodge@siit.ca for more information.
About community stories

We volunteer, give time and money to great causes, and we partner with caring and visionary Saskatchewan organizations. Check out the latest news in our community stories.
Read more
Categories