SaskTel sponsors Canada's longest-running annual rodeo in Wood Mountain Regional Park
SaskTel sponsors Canada's longest-running annual rodeo in Wood Mountain Regional Park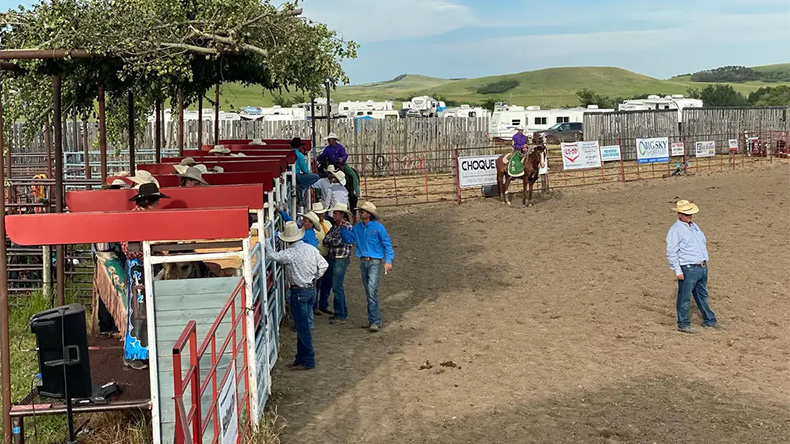 The Wood Mountain Stampede is a beloved community tradition and SaskTel is proud to sponsor its 134th year running.

This year's stampede took place from July 7-9 and was hosted in the scenic and historic Wood Mountain Regional Park, located about 240 kilometres southwest of Regina.
"Our rodeo is instrumental in maintaining the culture and heritage for our rural community," said Lane Ogle, Wood Mountain Recreational Club. "It's almost like our claim to fame now. It's a big deal!"
The stampede was established in 1890 by the North-West Mounted Police to promote sports and to celebrate the Dominion Day holiday. It became an annual event held every second weekend in July and is Canada's longest-running annual rodeo.
Dominion Day was an official public holiday in Canada from 1879 to 1982, where it was celebrated on July 1 – now known as Canada Day.
In its early years, local ranchers and cowboys were invited to participate in events at the rodeo such as foot races, ball games and horse races.
As the years passed and word spread about the event, Indigenous groups from the area also gathered to participate in the races and rodeo. By 1920, they added great value to the event by organizing an Indigenous parade and Pow Wow which drew even more attendees.
"In my dad's generation, back in the 1970's and 1980's, it was the event to go to so you could catch up with friends, and to this day everyone from the area is proud of its history," Lane said.
He said today many people still come to socialize but the main attraction is the Canadian Cowboy Association Rodeo. Other activities include camping, kid-centered activities, food booths, swimming, as well as Friday and Saturday night cabarets.
In the past, farmers and ranchers from the surrounding area were typically some of the event's major supporters; however, Lane explained that with drought conditions existing over the last few years, the Stampede has looked to support from outside sponsorships.
"Anytime we get a sponsorship it is highly appreciated, and SaskTel's is no exception!" he said.
SaskTel recognizes the importance and value that rural events like the Wood Mountain Stampede hold for many residents across the province and we are proud to help support the cause.
"With over 100 years of history behind it, it's clear that the Wood Mountain Stampede has a positive impact on rural Saskatchewan, its residents, and the visitors who travel from near and far to experience a part of our province's cultural fabric," said Lindsay Mazenc, Corporate Communications Manager. "This event hits the mark for our Community Investment Program criteria with a rural focus, and we are happy to sponsor it."
"I just think everyone should come to this event at least once if they can, because it's special that it is still going on every year. So, come on down and be a part of history!" Lane said.
About community stories

We volunteer, give time and money to great causes, and we partner with caring and visionary Saskatchewan organizations. Check out the latest news in our community stories.
Read more
Categories