SaskTel Sponsors Welcome Week at the University of Regina and University of Saskatchewan
SaskTel Sponsors Welcome Week at the University of Regina and University of Saskatchewan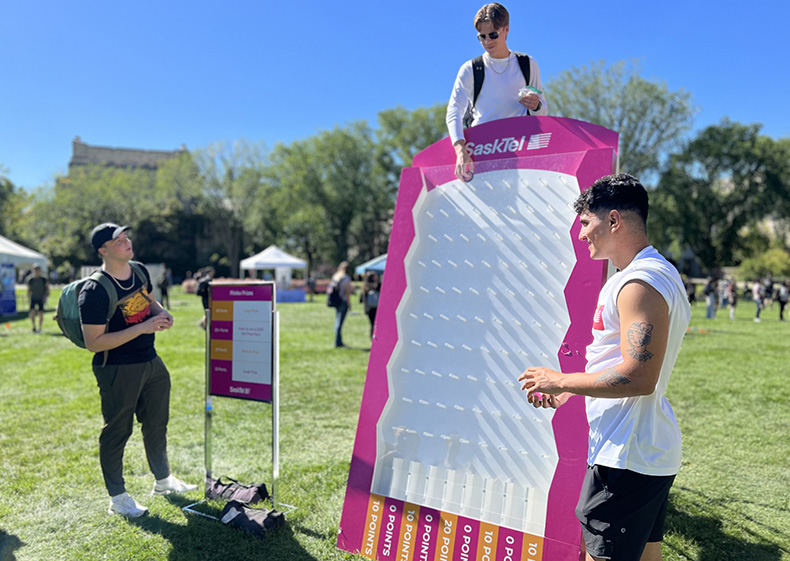 University students in Regina and Saskatoon are back to the books for the Fall 2022 semester, and SaskTel employees and street team members visited both campuses to help kick off the new school year.
SaskTel was the presenting sponsor for both the University of Regina Students' Union (URSU) and University of Saskatchewan Students' Union (USSU) 2022 Welcome Week activities that took place on September 6-8.
"At SaskTel we believe in the value of supporting the youth of our province, and we continually work towards developing stronger relationships with students as well as with Saskatchewan post-secondary institutions," said Lindsay Mazenc, Corporate Communications Manager.
Welcome Week is a great opportunity for students to celebrate the beginning of the academic year and their return to campus with an engaging lineup of activities.
"After 2 years of COVID-19 restrictions or closures, and with people pulling back from the public, this 2022 Fall Semester is the first that the University of Regina is fully in-person again," said Pedram Monafared, URSU Vice President of Operations & Finance. "With SaskTel being the headline sponsor of our Welcome Week, we were able to make this event big and bold, and ensure it was a very good experience, especially for the first-year students who are new to the U of R and its Federated Colleges."
SaskTel's on-site tradeshow booth offered some great deals on products and services for all students as well as information about flexible job opportunities with the company for students in Regina.
Scholars on both campuses also had the opportunity to check out SaskTel's interactive XM Cube, win prizes and even indulge in some free mini donuts.
"There was lots of engagement with students in-between their classes, and this was a good year for the XM Cube on the campuses," said David Thomas, SaskTel Marketing Manager – Customer Communications. "The cube experience was awesome, where the students could use the photo booth or play games including Plinko, Text Masters, which is a head-to-head speed and accuracy texting competition, and our new Virtual Reality Football Toss game. The mini donuts were a huge crowd pleaser too."
According to David, about 1,600 bags of mini donuts were given out at The University of Regina and roughly 2,200 at the University of Saskatchewan each day.
"Having SaskTel in the bowl, handing out prizes, and contributing to the excitement of students' return to campus is great to see. And I genuinely believe that students wouldn't come back (to school) if there weren't mini doughnuts from SaskTel," said Abhineet Goswami, University of Saskatchewan Students' Union President, with a laugh.
"Without the generosity of SaskTel, our USSU Welcome Week activities would not be possible, and we are very grateful," he added.
About community stories

We volunteer, give time and money to great causes, and we partner with caring and visionary Saskatchewan organizations. Check out the latest news in our community stories.
Read more
Categories