SaskTel staff bring comfort for kids interacting with the healthcare system
SaskTel staff bring comfort for kids interacting with the healthcare system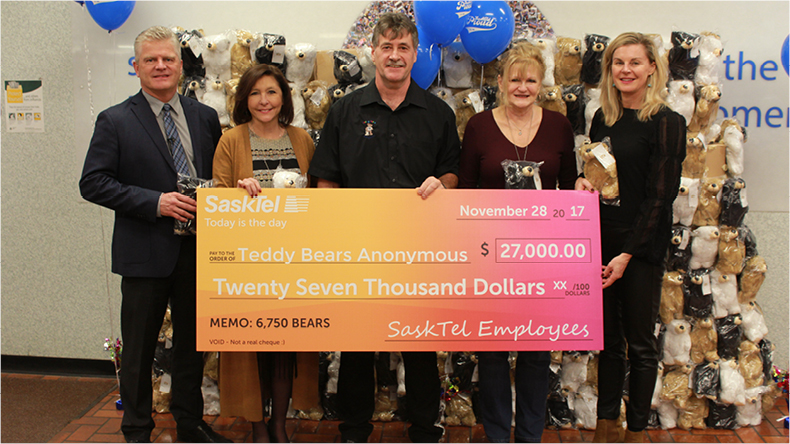 Back in October, SaskTel staff joined with the SaskTel Pioneers to launch their second annual employee giving campaign. This year, they decided that the campaign's goal would be to partner with the Jim Pattison Children's Hospital Foundation and Teddy Bears Anonymous to donate toys and teddy bears to hospitals around Saskatchewan.
Called the Comfort for Kids Challenge, employees worked to raise money and collect new toys that could be given to children staying in hospital. Departments across SaskTel were drafted into two teams; each lead by an Executive.
The teams had a friendly competition to see who could raise the most donations during the challenge. In the end, their many creative fundraising activities saw SaskTel staff collect over 3,500 toys, books, and games for donation to the Jim Pattison Children's Hospital Foundation, while also raising $27,000 for Teddy Bears Anonymous – the largest single donation the charity has ever received!
"It was an amazing fundraiser," said Jeannine Nelson, SaskTel Human Resources Manager – Strategic Planning and one of the campaign organizers. "It's wonderful to know that I work with such warm and giving people who are willing to spend their personal time and money to help kids in our province have a brighter experience during a stay in hospital."
Deliveries of toys began on Giving Tuesday (November 28), with SaskTel volunteers making stops at Victoria Hospital in Prince Albert, Regina General Hospital, as well as Royal University Hospital and the Alvin Buckwold Centre in Saskatoon.
These donations were then followed up with a cheque presentation to Teddy Bears Anonymous at SaskTel's head office in Regina on November 30. The $27,000 cheque will go to purchase just under 7,000 teddy bears that can be given to children in hospitals or by EMS services when they respond to calls where kids are involved. The SaskTel funded bears will be distributed on an as needed basis to health regions throughout the province.
"I think the reason any of us volunteer or give back isn't really about the dollars we raise," said Darrell Liebrecht, SaskTel Pioneers Manager and Comfort for Kids organizer who helped make the toy deliveries in Saskatoon. "It's about the impacts these donations make on the people and places that benefit from them. At the end of the day, if we can help put a smile on the faces of a child who's having a tough go in hospital, then all the hard work is worthwhile."
Judging by the smiles on the faces of some of the first toy recipients staying in hospital, it looks like all that hard work has paid off.
About community stories

We volunteer, give time and money to great causes, and we partner with caring and visionary Saskatchewan organizations. Check out the latest news in our community stories.
Read more
Categories