SaskTel surprises Meadow Lake students with I Am Stronger awareness event
SaskTel surprises Meadow Lake students with I Am Stronger awareness event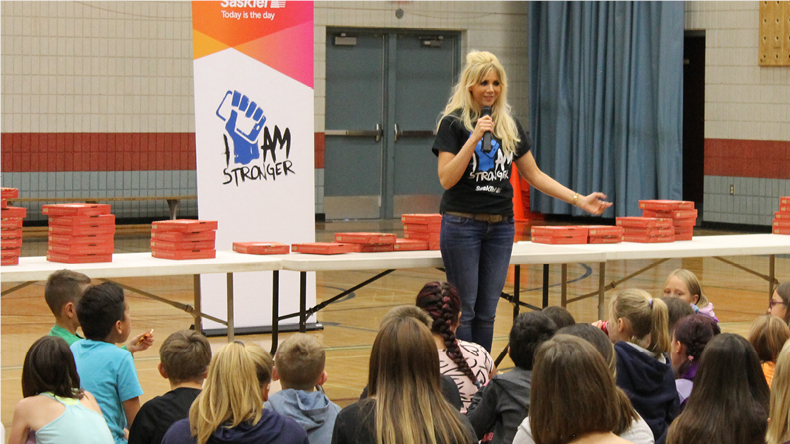 When it comes to changing the culture around bullying, we all have the strength to make a difference. SaskTel helped a group of local youth share that message with more than 100 of their peers as part of a surprise I Am Stronger visit in October 2017.
Students at Meadow Lake's Lakeview Elementary School have long embraced kindness and standing up against bullying. Selected as an I Am Stronger grant recipient in 2016, the school's Clusters of Kindness group delivers bouquets of flowers to members of the community who could use some sunshine in their day.
To recognize their efforts, SaskTel brought the group to nearby Jonas Samson Junior High School where they continued to deliver kindness, with a side of lunch. The surprise visit featured free pizza, discussions about the impact of cyber-bullying, and team-building activities.
"Clusters of Kindness has made a lasting impression on our students, our school and our community," said Nicole Munroe, Wellness Coordinator at Lakeview Elementary School. "The surprise I Am Stronger visit was the perfect way to acknowledge the group's hard work and to demonstrate how their actions are creating a ripple effect of kindness."
Lyndsey Pankratz, SaskTel's I Am Stronger program coordinator, agrees and says the educational event was about inspiring others to make a difference.
"From smaller communities to big cities, I Am Stronger encourages young people across Saskatchewan to get involved," said Pankratz. "Since 2016, Clusters of Kindness has been inspiring others with acts of kindness, which speaks to the positive impact our youth can have in the fight against bullying."
SaskTel's I Am Stronger program regularly visits schools throughout the province to speak with students about how they can prevent bullying and cyber-bullying. The year-round awareness campaign also provides tools and techniques that teachers, parents and students can use to stop bullying in its tracks.
The results have been impressive. Over the past five years, I Am Stronger has increased awareness in the fight against bullying and empowered Saskatchewan youth to make a positive impact in their schools and communities. Offered in partnership with the Ministry of Education, the Community Grant program has distributed 61 grants across the province, providing nearly $54,000 towards youth-led initiatives that promote kindness and positive school environments.
"I Am Stronger has accomplished a great deal by giving Saskatchewan youth the tools and confidence to take a stand," said Pankratz. "The more we get out there and raise awareness, the quicker we can put an end to bullying."
Learn more about the Clusters of Kindness group.
For more information about SaskTel's I Am Stronger program, please visit www.iamstronger.ca.
About community stories
We volunteer, give time and money to great causes, and we partner with caring and visionary Saskatchewan organizations. Check out the latest news in our community stories.
Read more
Categories