SaskTel's TelCare fund lends a helping hand to non-profits across Saskatchewan
SaskTel's TelCare fund lends a helping hand to non-profits across Saskatchewan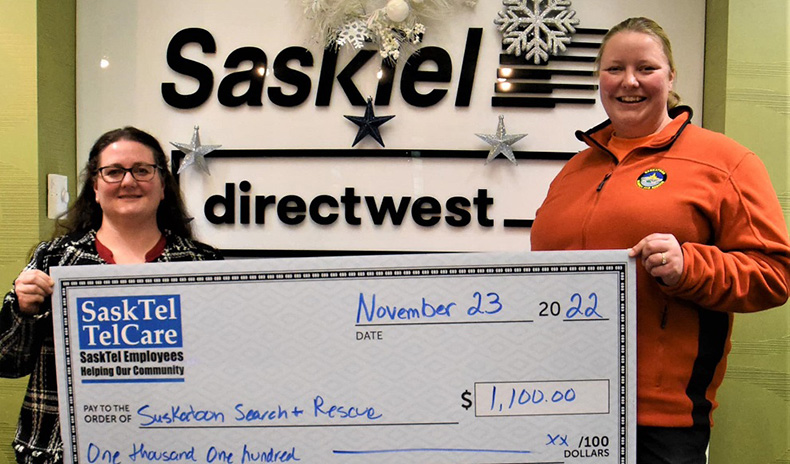 Crystal Piatt (L), SaskTel TelCare Allocations Director for Saskatoon & District, presents the TelCare cheque to Kate Dean (R), SSAR canine handler. (Photo Credit: Sean Taylor)
SaskTel employees are known for their generosity. One of the ways we make a difference in the communities we call home is with SaskTel TelCare. In 2022, our employee-driven charitable donation program contributed over $193,000 to 44 locally operated charities and non-profit organizations across 9 districts in Saskatchewan.
Two of those organizations from the Saskatoon & District include Saskatoon Search and Rescue (SSAR) and Muscular Dystrophy Canada (MDS).
As Fundraising Director for SSAR, Sean Taylor knows just how important every dollar is to the work of their non-profit organization.
SSAR is made up of over 40 volunteers who are on call 24/7 to assist agencies such as the Saskatoon Police Service, RCMP, Saskatoon EMO, in searching for lost or missing persons, or to provide support to local communities during emergency or disaster situations.
"We are continuously looking at how we can improve our training, knowledge, skills, and equipment to be ready to help when our community needs us," says Sean.
In 2022, SSAR received $1,650 for its First Responder Program and equipment through Saskatoon District TelCare.
The donation received will be used by SSAR to purchase two oxygen trauma medic first responder bags (stocked with an oxygen tank and supplies), as well as an emergency scoop stretcher – used to scoop the person in-need off the ground without having to roll them, and then relocate them to safety. A small portion of the funds will also be used to train responders on how to use specialized equipment.
"Saskatoon Search and Rescue prides itself on being proactive and going above and beyond," says Sean. "SaskTel TelCare has so generously supported us in some of our important endeavours, and we are very grateful for that."
Muscular Dystrophy Canada supports more than 50,000 Canadians from coast to coast who are affected by neuromuscular disorders. Neuromuscular disorders are a group of more than 160 conditions that affect muscles and/or the nerves that send signals to the muscles. This can impact the muscles responsible for mobility, communication, and even swallowing or breathing. For many individuals, muscle weakness can increase over time making support critical to navigating their daily life and achieving their goals.
Muscular Dystrophy Canada has a grassroots approach to supporting the neuromuscular disorder community, through chapters and community events across Canada, including a strong community of support in Saskatoon. In 2022, MDC received just over $3,100 in support of the Saskatoon region from SaskTel employees and SaskTel through TelCare donation for its equipment program.
"Your support of the neuromuscular community in Saskatoon has a tremendous impact on persons affected, their families, caregivers, and broader community," said Charlotte Graham, Individual Giving Associate, Muscular Dystrophy Canada.
The TelCare donation will help ensure all persons affected by neuromuscular disorders in Saskatoon can access the vital equipment needed to remove some of their daily barriers, including social isolation and mobility challenges. Types of equipment provided include scooters, wheelchairs, bathroom aids, stair lifts, and respiratory aids.
"Your belief in our mission has allowed us to continue providing vital care to persons affected, as the numbers of requests for support from our community have continued to increase," says Charlotte. Together, we are providing persons affected with the tools needed to achieve their goals and enhance their quality of life. On behalf of MDC and the neuromuscular community in Saskatoon, we are truly grateful for your generosity. From the bottom of our hearts, thank you!"
Saskatoon Search and Rescue and Muscular Dystrophy Canada are just two of the 44 non-profit and charitable organizations across Saskatchewan where SaskTel TelCare donations are helping make our province a better place.
About SaskTel TelCare
SaskTel's TelCare was founded in 1950 by a group of employees who shared the belief that together they could help to improve the lives of those in need. Today, the employee benevolent fund supports numerous registered charities in Saskatchewan through the generous support of SaskTel employees. Thanks to SaskTel's commitment to provide a top-up donation of $0.50 for every $1 donated by its employees, the positive impact of their generosity can be felt in every corner of the province.
About community stories

We volunteer, give time and money to great causes, and we partner with caring and visionary Saskatchewan organizations. Check out the latest news in our community stories.
Read more
Categories