The gift of a fresh start
The gift of a fresh start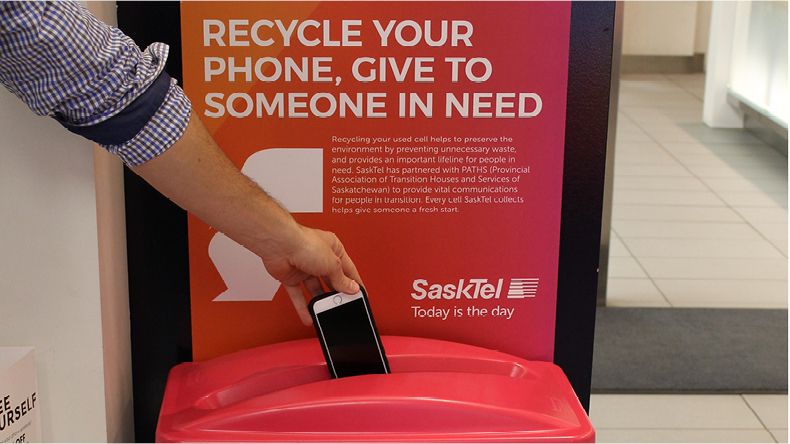 Cell phone recycling program provides lifeline for victims of domestic violence
We all have an old phone lying around or a collection of outdated chargers taking up space in that proverbial bottom drawer. In this day-and-age we are increasingly aware of the impact of electronic waste, but did you know there's a way to tame some of that tech clutter while helping others out in your community?.
Phones for a Fresh Start is a SaskTel recycling program that uses the proceeds from recycling donated cellphones to purchase prepaid calling cards and brand new cellphones which are then distributed to 21 women's shelters across Saskatchewan.
The program collected its 100,000th cellphone in September and to celebrate, SaskTel is launching a province-wide cellphone recycling drive beginning October 17, 2017.
In partnership with the Provincial Association of Transition Houses (PATHS), Phones for a Fresh Start has provided more than $78,000 in prepaid cards and over 2,600 cellphones for use by victims of domestic violence since 2009.
"Phones for a Fresh Start is valuable first and foremost for safety, but it does so much more than that for the women who receive them," said Crystal Giesbrecht, Director of Research and Communications at PATHS. "The phones allow them to look for housing or jobs, and it allows shelter and outreach staff to follow up with women for ongoing support and to check on their safety."
With the highest rate of domestic violence in Canada, Saskatchewan still has a long way to go in tackling domestic abuse. Unfortunately, victims and their children must often escape from dangerous situations without a reliable way to contact their support network. Worse still, their abuser may be trying to exert control through harassment or by trying to track down their location. This leads many women to abandon their personal cellphone, especially if the abuser is the primary account holder.
"In many of these situations, they come without a cellphone," said Crystal. "It is common for an abusive partner to break a woman's phone or restrict her access to it as a means of control."
Crystal recalled the story of one survivor and how something as seemingly simple as a cellphone helped to empower her to rebuild her life and gain a sense of independence.
"Many women have never had access to a phone of their own before," Crystal explained. "One woman commented how her Fresh Start phone allowed her to find employment as she was able to receive calls without her husband's interference in her efforts."
Through the program, thousands of cellphones have been provided to women who otherwise would not have had access to one. But the success of the program ultimately relies on the generosity of Saskatchewan people.
That giving spirit led to more than 250 kilograms of batteries and 7,032 wireless accessories being collected through the program last year alone. As a result, Phones for a Fresh Start was able to distribute 450 prepaid calling cards and 453 cellphones to PATHS in 2016.
"It's no small feat to collect and recycle 100,000 phones," said Deb Ottenbreit, Community Relations Specialist. "We know how much it means to the recipients and we are excited to reach such a wonderful milestone."
However, as fantastic as the results are, everyone involved with Phones for a Fresh Start would like to see the program do even better and a concerted recycling drive is one way to help achieve that goal.
The impressive results of the program demonstrate how individual efforts, taken together, can have a significant impact in the lives of others. So, when you or someone you know is considering an upgrade, encourage them to donate to a good cause. Phones for a Fresh Start accepts any type of hand-held wireless device. The make, model and condition of your cellphone doesn't matter. Donations of wireless chargers, batteries and accessories are also accepted.
Devices can be dropped off at collection bins at all SaskTel Stores and participating Authorized Dealers. And, if getting to a store is not possible, you can drop off unwanted devices and cellular gadgets at any Canada Post outlet for free shipping to SaskTel. Just be sure to erase all personal data and remove SIM cards before making a donation.
Your old phones are a valuable resource, so why not clean out that drawer and donate today!
About community stories

We volunteer, give time and money to great causes, and we partner with caring and visionary Saskatchewan organizations. Check out the latest news in our community stories.
Read more
Categories