New Releases
Watch the latest Hollywood hits at the push of a button. On Demand new release rentals start at $5.95 for 48 hours.
Marvel Studios' Shang-Chi and The Legend of The Ten Rings (PG-13)
Ace and the Christmas Miracle (PG)
Coming Soon
We're always adding great new On Demand movies. Check out what's debuting in November:
Broadcast Signal Intrusion (18A)
Subscriptions
See a channel that you don't have? Add maxTV channels or maxTV Stream channels.
Included with maxTV Standard or maxTV Stream subscription







Available with channel subscription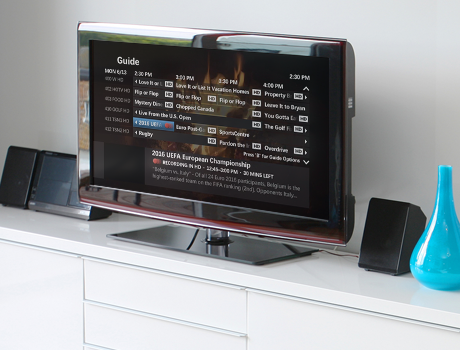 Local On Demand
Enjoy stories about your community and the people of Saskatchewan. Take in a concert, get in on the action with local sports, learn about great food and beverages the province has to offer, and so much more.
How to watch
Watch your shows on the go
With the SaskTel maxTV app and Go Apps, watch what you want, when you want, anywhere in Canada.
Need help?
It's easy to watch and rent On Demand.
Learn More
TSN and YTV On Demand are not included with maxTV Lite or maxTV Stream Lite.
Movies On Demand
Honey Girls © 2021 Build-A-Bear Entertainment, LLC and Sony Pictures Worldwide Acquisitions Inc. All Rights Reserved.
Mothers of the Revolution © 2021 GFC (GREENHAM) Limited. All Rights Reserved.
Teenage Girl: Valerie's Holiday COPYRIGHT MUTT PRODUCTIONS,LLC 2019
Every Last One of Them © 2021 Paramount Pictures, Inc. All Rights Reserved.
Warning © 2021 Lions Gate Entertainment Inc. All Rights Reserved.
Rhapsody of Love © 2020 Joy House Productions and indiVisual films. ALL RIGHTS RESERVED
Injustice © Warner Bros. Entertainment Inc. Justice League and all related characters and elements are ™ and © DC
Dashcam © 2021 VUBIQUITY
Dangerous (2021) © 2021 Lions Gate Entertainment Inc. All Rights Reserved.
James Bond: No Time to Die © 2021 Danjaq, LLC and Metro-Goldwyn-Mayer Studios Inc. All Rights Reserved.
The Eyes of Tammy Faye © 2021 20th Century Studios and TSG Entertainment Finance LLC
The Protégé © 2021 V V S Films